Dirty Dog Tail Run Coopernook
Posted by Discover Magazine Port Macquarie on 1 August 2018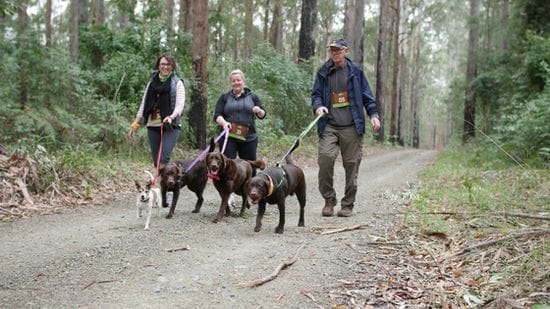 Are you looking for a trail run with a difference? It's easy to find adventures on the Mid North Coast. And now you can adventure with your favourite two-legged friend. We discover all about The Dirty Dog Tail Run from Event Director Danielle Donnelly.
From tails to trails tell us about the concept for the Dirty Dog Tail Run.
The Dirty Dog Tail Run is the first of its kind and we hope to expand in the future to other regional areas. I have two beautiful dogs, a golden retriever and a border collie who I love to take on adventures. Unfortunately, I found there weren't a lot of spaces or events that were dog friendly. I wanted to create an event that I could completely enjoy with my two pooches and that was designed from their perspective, and so the event came to life. We work closely with NSW State Forests in promoting their spaces as dog friendly. Many people are unaware that they can take their dogs into State Forests, so the event is a great way to inform people. Since 2016 it has grown to include a fun and interactive games component, a pooch smooch booth and we are always dreaming up new and crazy ideas to create a day full of happiness and connection.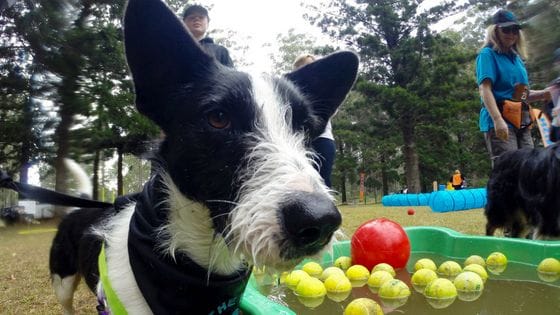 When and where will the event take place?
The event takes place at beautiful Coopernook State Forest, just off the Pacific Hwy between Taree and Kew. Set amongst the scenic and serene eucalypt forest, there are two course distances to choose from. The short course is a 4km run/walk and the long course is an 8.5km run/walk. The courses offer stunning scenery and appeal to both the novice and more experienced trail explorer. All courses are clearly signposted with the awesome Dog Tail animal loving team cheering along the way.
This event puts the Mid North Coast on the travel map for trail and tail runners. Where do participants travel from?
Due to the unique nature of the event we attract participants from are far south as Kiama and as far north as Queensland. We are continually getting requests to stage the event in new locations outside NSW which we hope to do in future years. People can camp for free at Coopernook State Forest with their pooches. Details on camping in NSW State Forests can be found online.
The Dirty Dog Tail Run is now in its third year and attracts more hounds and humans each year. What can people expect?
Last year we had 100 doggies take part and this year we are hoping to attract up to 150 dogs and their owners.
Our participants love the quirky games that we play at the event. Last year we hosted a doggy beer drinking competition with a non alcoholic beef flavoured beer especially brewed for canines. It works just like a beer, so if poured correctly it will get a head on it! Three bowls were filled with the brew and dogs lined up, tails wagging to take on the challenge. The winning pupperino's took home a case of the good stuff. It was so popular we'll be hosting the beer drinking competition again at this year's event.
Any tips for dogs or owners to make the most of the day?
The Dirty Dog Tail Run isn't just about hitting the trails with your pooch, but also about connecting with other animal lovers, so be prepared to stick around and make a day of it, making new friends both the human and hound kind. Plus there are loads of fun and interactive games for pooches to enjoy for hours after they finish exploring the smells and mud on the trails.
We recommend that people bring along a picnic blanket and plenty of water for the day. We have a great list of FAQ on our website that will get people prepared for the day and their event.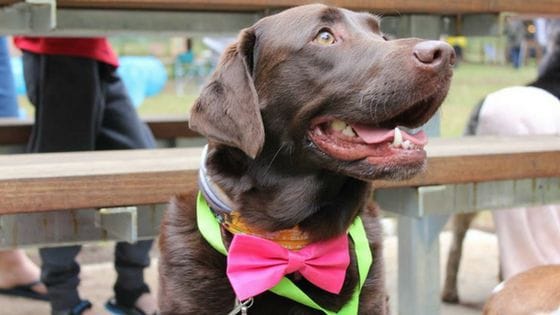 Image: Dirty Dog Tail Run Coopernook State Forest
What's one thing you would recommend visitors to the region see or do whilst here this August in addition to the Dirty Dog Tail Run
We have so many beautiful spots to visit, our dogs absolutely love the beaches and a couple of their favourite spots are Old Bar Beach and Blackhead Beach, both dog friendly and plenty of space for them to run around, while puppy parents enjoy a picnic lunch or a coffee. An extra bonus is that it's whale watching season. Manning Valley Tourism and Port Macquarie Hastings offer a good list of dog-friendly beaches people can visit.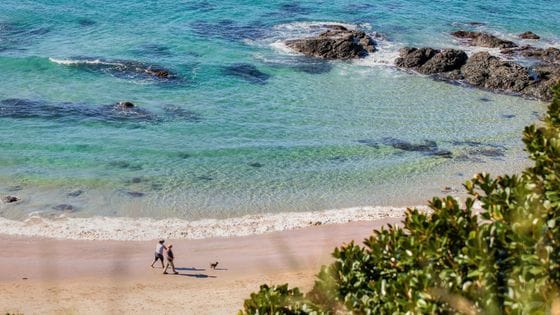 Image: Nobbys Beach Port Macquarie
The Dirty Dog Tail Run is 45 minutes from Port Macquarie and takes place on Sunday 19 August at 9.30am.

Image: Lighthouse Beach Port Macquarie

Author:
Discover Magazine Port Macquarie
Post comment