discover our koalas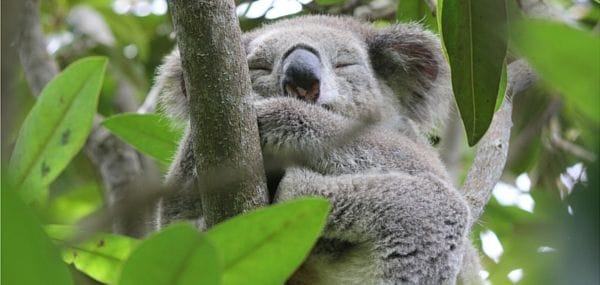 Port Macquarie is the place to celebrate one of Australia's most iconic animals - the koala.
Here you can not only get up close and personal with our furry friends at Billabong Zoo, you can also visit the world's first koala hospital, or take the trail to see over 50 beautiful koala sculptures.
The Koala Hospital
The Koala Hospital adjacent to Roto House is the world's first hospital dedicated solely to the care and preservation of koalas. Founded by Jean and Max Starr in 1973, the hospital is entirely self-funded from donations, bequests, adoptions and their kiosk.
It is managed by the charitable organisation, the Koala Preservation Society of Australia Inc., only has three paid positions, 170 volunteers and hosts one overseas volunteer for one month every month - a position that is in very high demand. Facilities include a treatment room, eight internal intensive care units, six outdoor intensive care units and 33 rehabilitation yards.
This unique Hospital not only treats between 250-300 sick and/or injured koalas each year, it successfully rehabilitates and returns about 80% of their admissions to the wild. Primary causes of illness and injuries to koalas are Chlamyidiosis (a virulent bacterial infection that causes 'wet bottom' and conjunctivitis which, if detected in time, can be treated by antibiotics); motor vehicle accidents, dog attacks and the dreaded bushfires, which not only maim and kill koalas but lead to the destruction of their rapidly diminishing habitat and food trees.
Of the 900 species of eucalypt trees that grow in Australia, only 60 of them are 'food trees' so koalas' habitat is determined by the availability of these trees.
Australian Music legend John Williamson is also passionate about saving koalas. John has been a patron of the Koala Preservation Society of Australia ever since he met one of their founders, the late Jean Starr, in the early eighties. During a visit to the Koala Hospital, he witnessed an emergency rescue call come in. The entire experience was so impressive for John that it inspired him to write the song "Good Bye Blinky Bill", which became enormously popular throughout Australia. He very generously donated the proceeds from his song to the Koala Preservation Society. John raised a considerable amount of money that enabled the Koala Hospital to build a new "John Williamson Wing" which houses their intensive care unit.

Visitors to the Koala Hospital can view the treatment room through a large window and see the koalas being treated. You can also observe the recovery, care and feeding of the koalas.
The Koala Hospital is open daily from 8am until 4.30pm with feeding times at 8am and 3pm. Walk & Talk tours are conducted at 3pm daily where the koalas will be fed and the volunteer will explain how the koalas came into their care. Admission is free and donations are welcome - you can even adopt a koala! Located at Lord St and Roto Place, Port Macquarie. Phone 02 6584 1522, koalahospital.org.au
Hello Koalas Sculpture Trail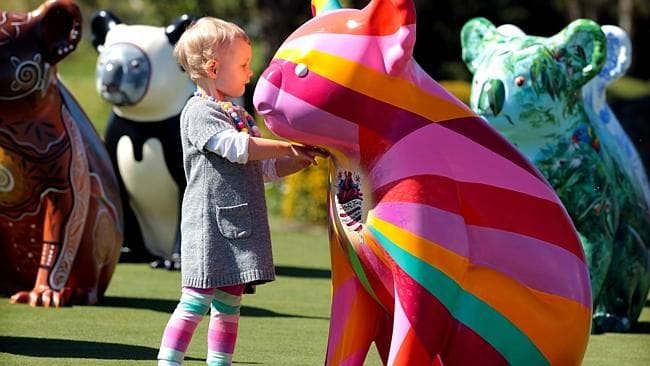 The Hello Koalas Sculpture Trail ensures guaranteed sighting of over 56 Koalas scattered across the Port Macquarie-Hastings region! Ranked #3 of 70 Things to Do in Port Macquarie on TripAdvisor.
Each one metre high Hello Koala sculpture has been designed and hand painted by a selected artist and is sponsored by a local business or community organisation. Pick up a free Hello Koalas Sculpture Trail Guide from participating parnters or download the Trail Guide pdf from hellokoalas.com.
For queries about the Trail just info@hellokoalas.com or send a text to 0416 641 482 and you will have access to all the answers you need to enjoy this unique art and nature trail.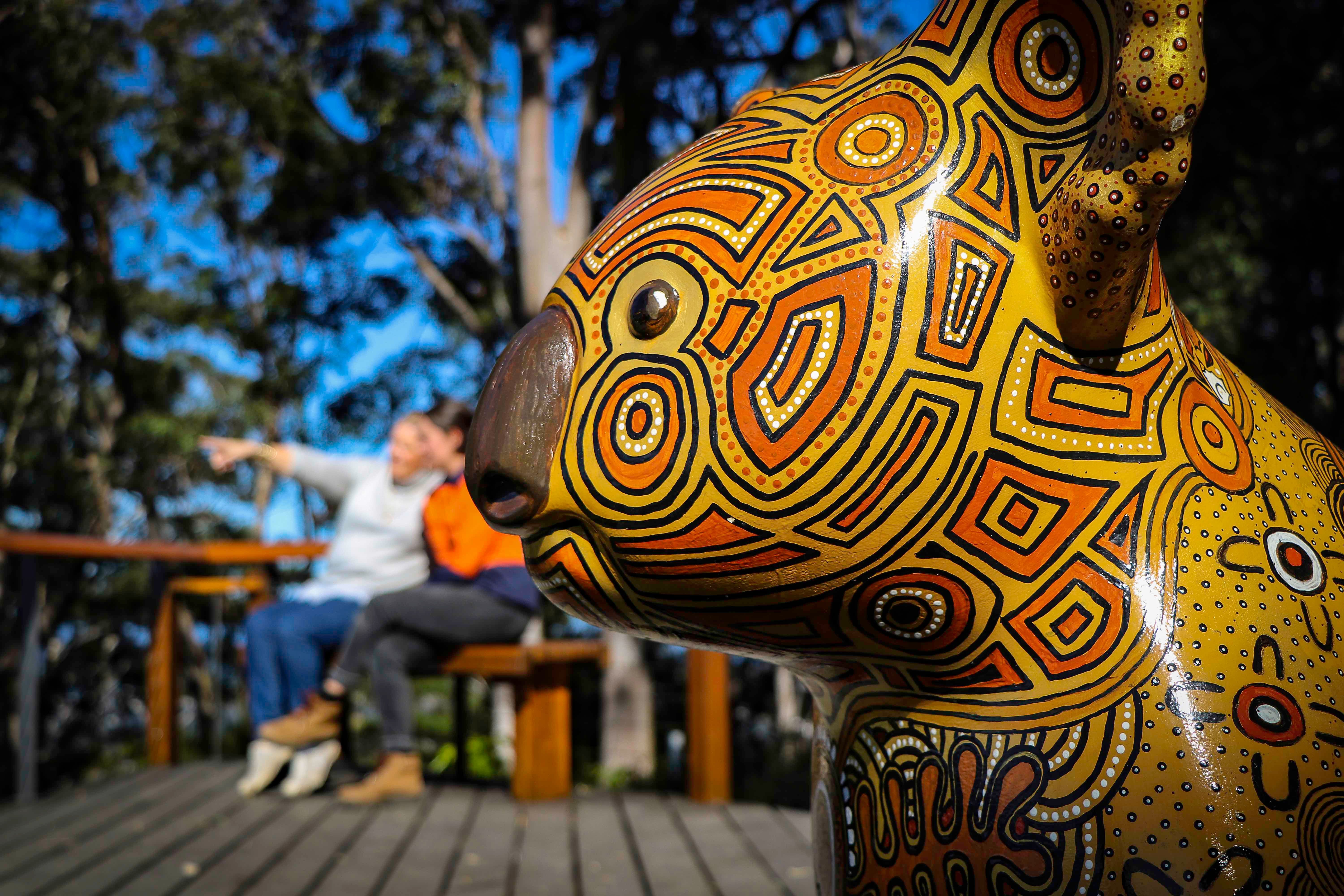 Many Hello Koalas sculptures are in walking distance of the Visitor Information Centre at the Glasshouse or the Port Macquarie Museum in Clarence Street.
And for something new, head to Sea Acres Rainforest Centre for the "Save Our Koalas" boardwalk experience, with 6 environmentally theme Hello Koalas sculptures placed along the way to raise awareness of just how unique our koalas are. For example, at the start of the boardwalk, say hello to "I'm No Bear" which reminds us that koalas are not actually "bears" but marsupials. Further along, "Percy" is a favourite with children and cautions us to be careful not to hurt koalas crossing the road while driving in the region.
You can also purchase a book about "Save Our Koalas" from the Sea Acres shop, which also stocks lots of great Hello Koalas memorabilia to take home after a fun-filled day on the Hello Koalas Sculpture Trail. Follow Hello Koalas on facebook (@hellokoalas1).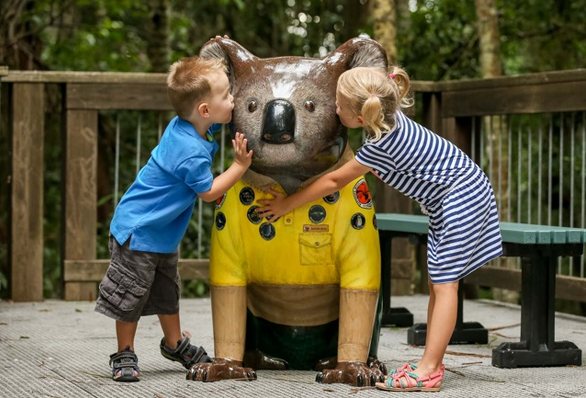 DID YOU KNOW that John Williamson is also an accomplished visual artist as well as a musician? You can see his design on one of the Hello Koala sculptures at the Koala Hospital. According to John, the "stars" in his design are a reminder of Max and Jean Starr and the name of the sculpture - "Sunshine" - reflects the warmth and joy this couple brought to so many during their lives, and especially to our precious Koalas.