The Mystery of the Disappearing Towel
Posted by Discover Media Australia on 10 January 2018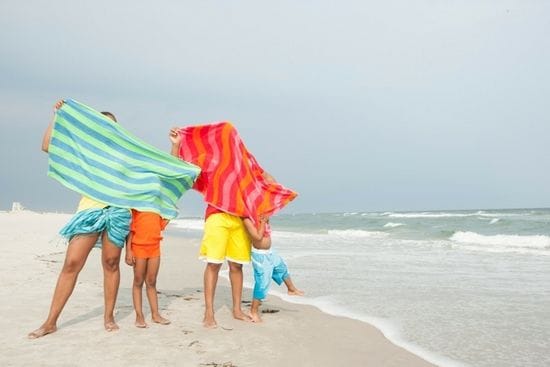 January in Australia is the month of summer swims, sandy toes and disappearing towels.
The kids seem to use and lose every beach towel possible. Only to be discovered in a sopping mess by the pool or under someone's bed. And always covered in sand!
Whether you're staying at a holiday apartment, five star hotel or holidaying at home - keeping track of your beach towels can drive you bananas.

Muggy days. Occasional storms. Ocean swims in the rain. Endless sunny days on the sand. Beach towels are an essential ingredient to Aussie summer life.

Finding the perfect beach towel can be a lifelong mission. These days towels come in all shapes and sizes. Round ones, super thin, microfibre, teeny tiny, with hood, without a hood, lightweight, fast drying, organic or cotton, sand free or fluffy fabric. Endless possibilities. But they will all certainly end up wet and sandy at the end of the day.
Whether you're surfing, swimming or just want to look stylish at one of Port Macquarie's 18 beautiful beaches our tip is to choose the towel to suit your lifestyle. There's so much choice we thought we'd share our top towels on trend for 2018.

Here's some Aussie towels we love. Do you have a favourite beach towel?
Tweed Heads sisters from the NSW North Coast created the original round towel. Check out Local Stockist Pretty Rad Store for seaside luxe essentials including the Round Towel.
Local legends at Inner Vision stock all your Aussie favourites including Billabong, Quiksilver, RipCurl and Roxy.
Eco friendly and lightweight Turkish towels launched by Melbourne swim squad mums, the towels are an imaginative splash of Turkish cotton and Aussie colour perfect for travelling.
The first sand free towel. Launched at Bondi Beach Markets, the brand has quickly gone global. The Lonely Planet review says "No more dragging half the beach home as an Australian company has invented a sand-free towel." Test out Tesalate and let us know what you think.
Jolly Roger Eco Towels raise funds to defend ocean wildlife. You can also purchase Sea Shepherd T-shirts and hats at Inner Vision Surf N Skate and help save the planet too.
For more Port Macquarie summer leisure shopping check out our friends at Inner Vision Surf N Skate, Pretty Rad Store, Sublime and Blossom, Meg & Me Boutique + Espresso and Arthouse Industries. You'll be sure to find some beautiful summer styles.
TOWEL TIPS
Head to beach. Have fun. Swim. Relax. Before you leave the beach give your towel a good shake, being mindful of the wind direction and people around you. Once home immediately hang out to dry or throw straight in the washing machine. Fold and pack ready for your next beach day. And repeat.
Here's to a happy beach life. Now it's time to find my towel.
Author:
Discover Media Australia
About: Locally owned and operated by local husband and wife Andrew and Lucy Kowalewski, Discover Media Australia (DMA) is your go-to for tourism advertising and marketing.
Post comment