Stoney Aqua Park: Fun For The Whole Family
Posted by Discover Media Australia on 29 December 2017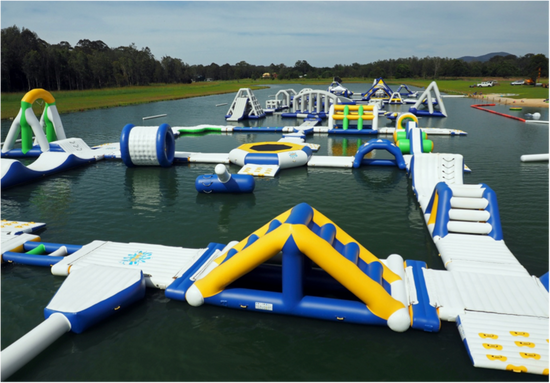 Written by Simone Lye (The Aussie Flashpacker) for Discover Media Australia
Port Macquarie has recently been blessed with the opening of one of the world's largest aqua parks, Stoney Aqua Park which is located at Telegraph Point, just 10 minutes from Port Macquarie.
The park is a super-sized, water park with countless obstacles, slides, swings, ladders, blast bags, balance beams, trampolines and much more that is guaranteed to have you slipping and sliding and get the adrenaline pumping! It is the perfect destination for a fun, safe day out for the entire family.
Stoney Park is a family business and that has been owned and run by former pro skiier and now full time waterski coach, Jason Stone and his family for over 17 years. The Stone's are involved in every aspect of the running of Stoney Park and visitors to the park will see them about and about everyday ensuring everything is running smoothly and the guests are enjoying their visit.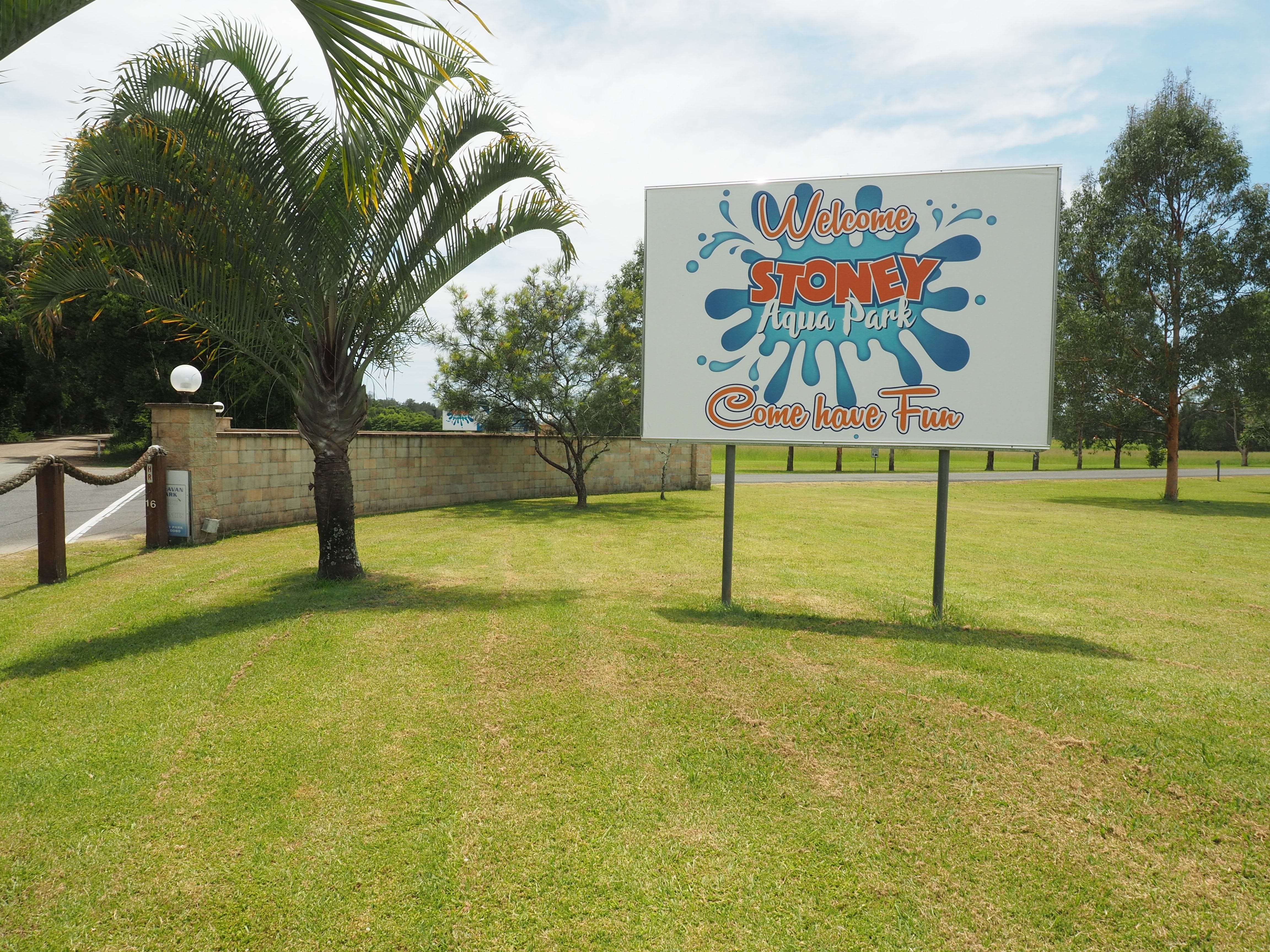 Stoney Park isn't just an Aqua Park, it also offers on-site accommodation and camping sites, two man made lakes which were built for waterskiing and wakeboarding, extensive shade structures, change rooms and toilets, picnic benches, sun loungers and an undercover BBQ area. A kiosk is also available to purchase cold drinks and snacks and stand up paddleboards are also available for hire at a reasonable price. The lake also has a protected swimming area which is perfect for young children.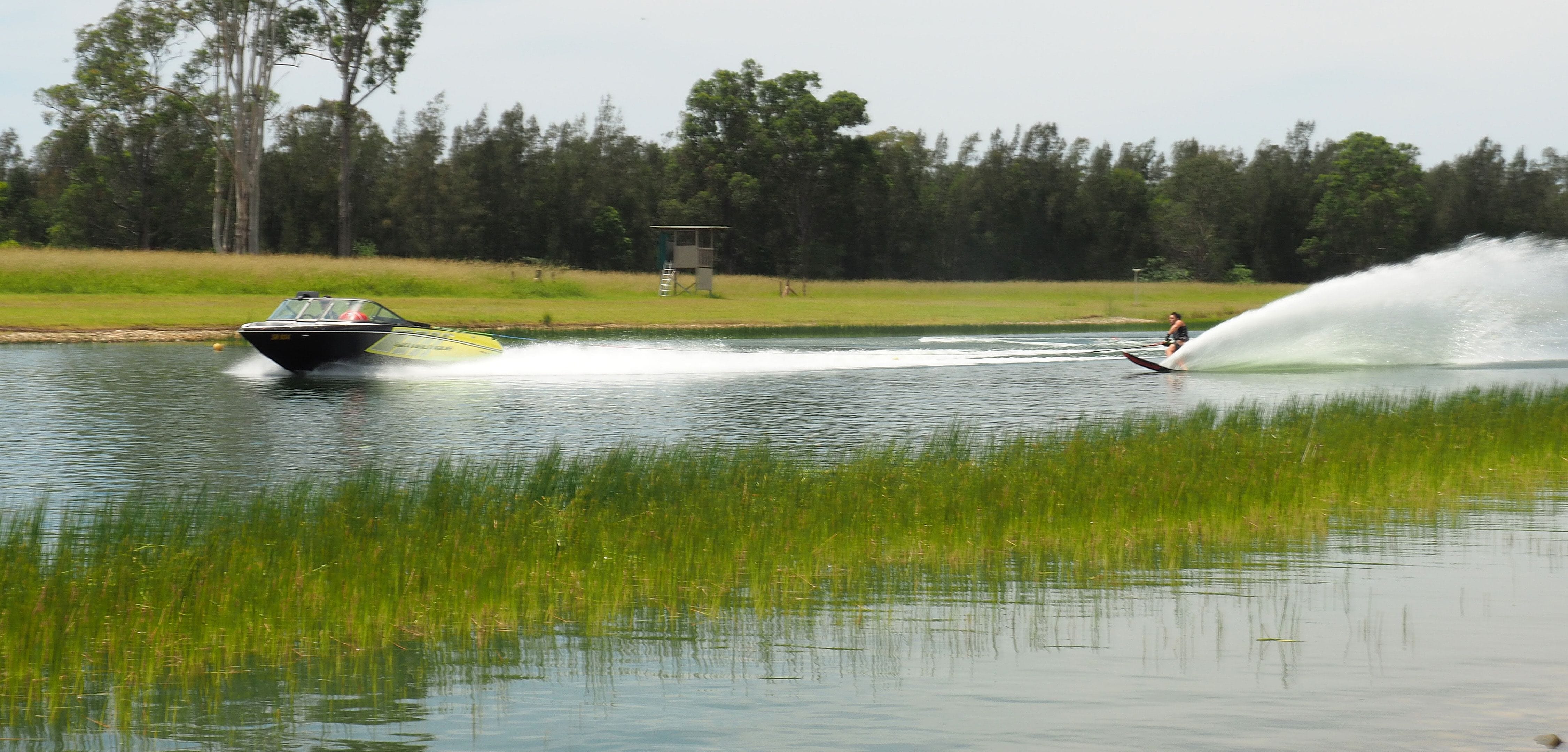 The park has no age, weight or height restrictions and whilst everyone is there to have fun, they consider safety of the utmost importance. Everyone is required to wear a lifejacket the whole time they are in the splash zone and there are lifeguards dotted across inflatables as well as on stand up paddleboards and on the beach. All participants are required to sign a waiver before they take part and are given a safety talk by staff 10 minutes before their session begins.
Every aspect of the park runs so smoothly, the staff are friendly and very well trained and participants can enjoy themselves in a safe environment. The Aqua Park is built on one of the freshwater man-made lakes which means there is no worry about any sharks!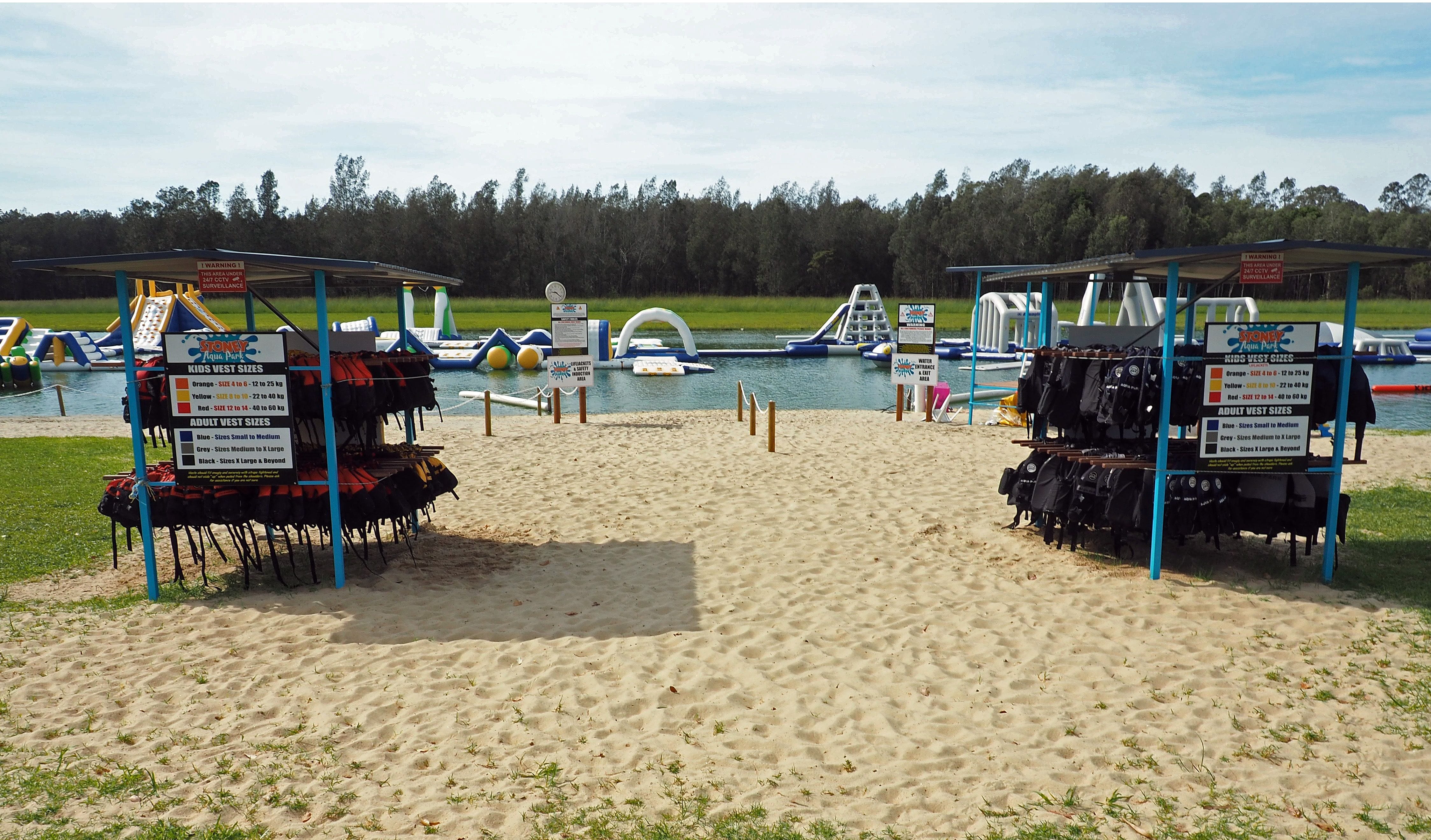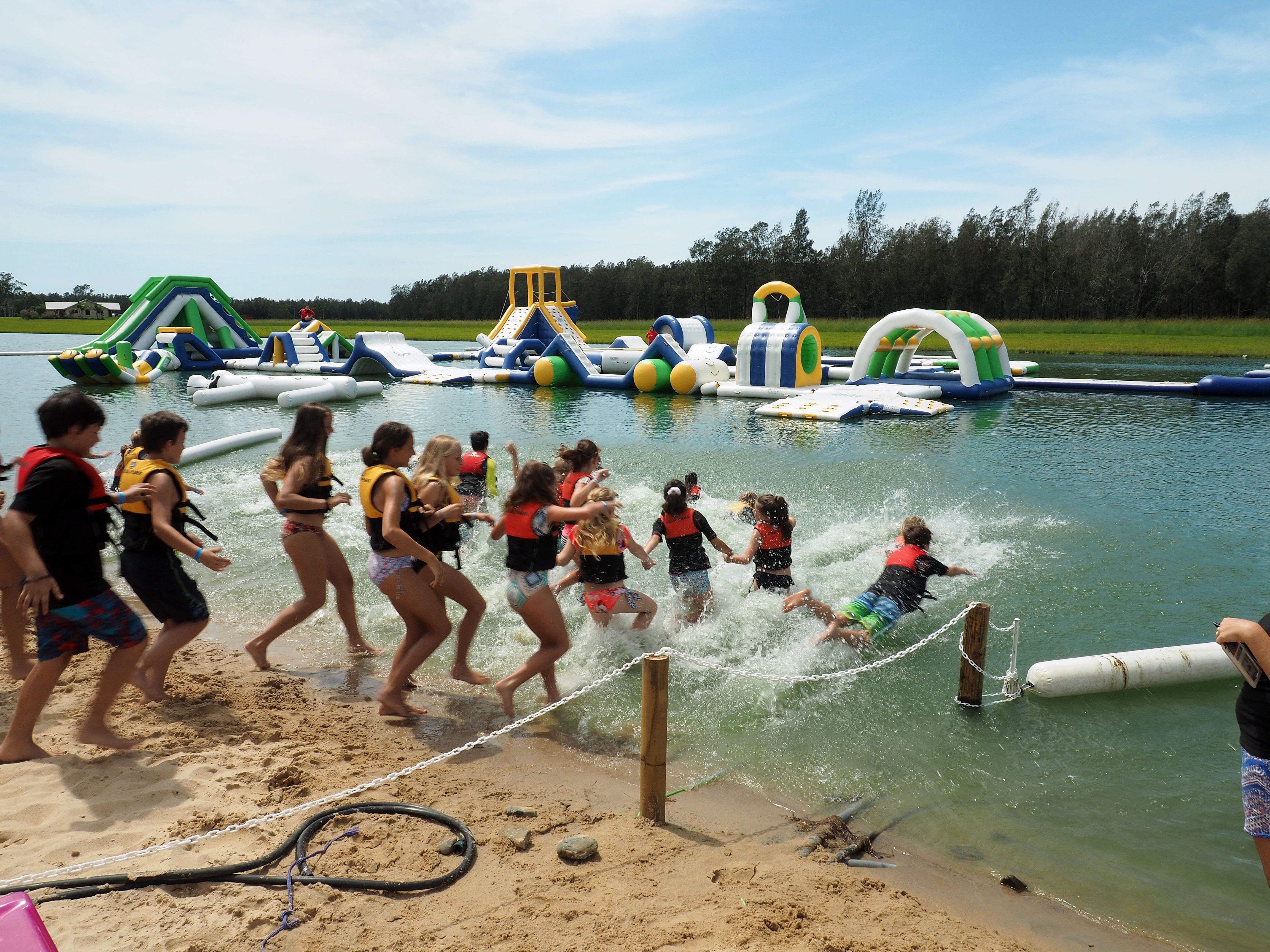 The park covers a huge area, so even when the session is full the crowds will still spread out ensuring everyone can have a go at all of the obstacles safely. You enter from the lakefront and choose the first obstacle you want to tackle whether it is one of the many giant slides or trampolines, a swing, balance beams, giant balance balls, challenge tracks, sea saws or the hilarious blast bags!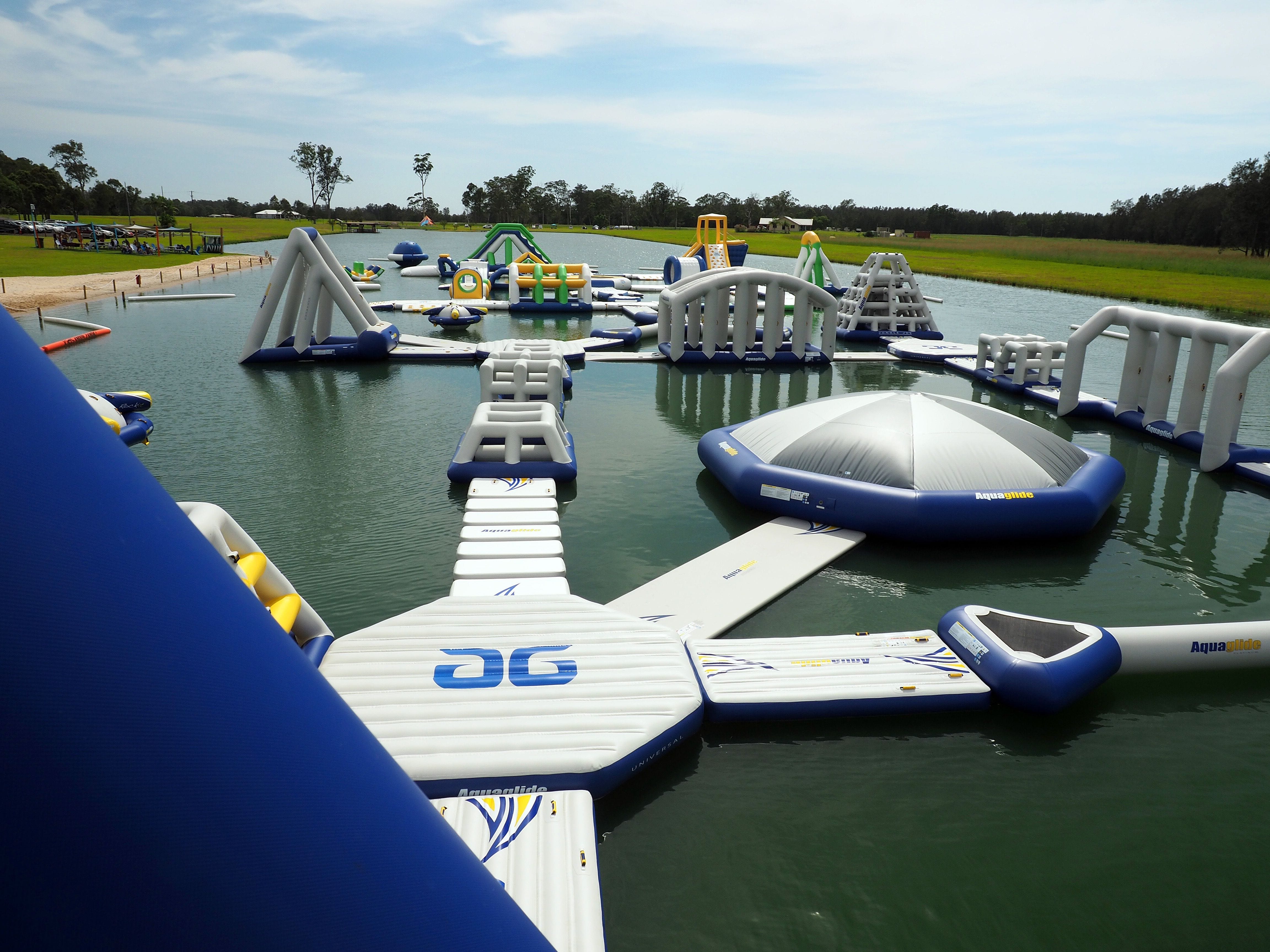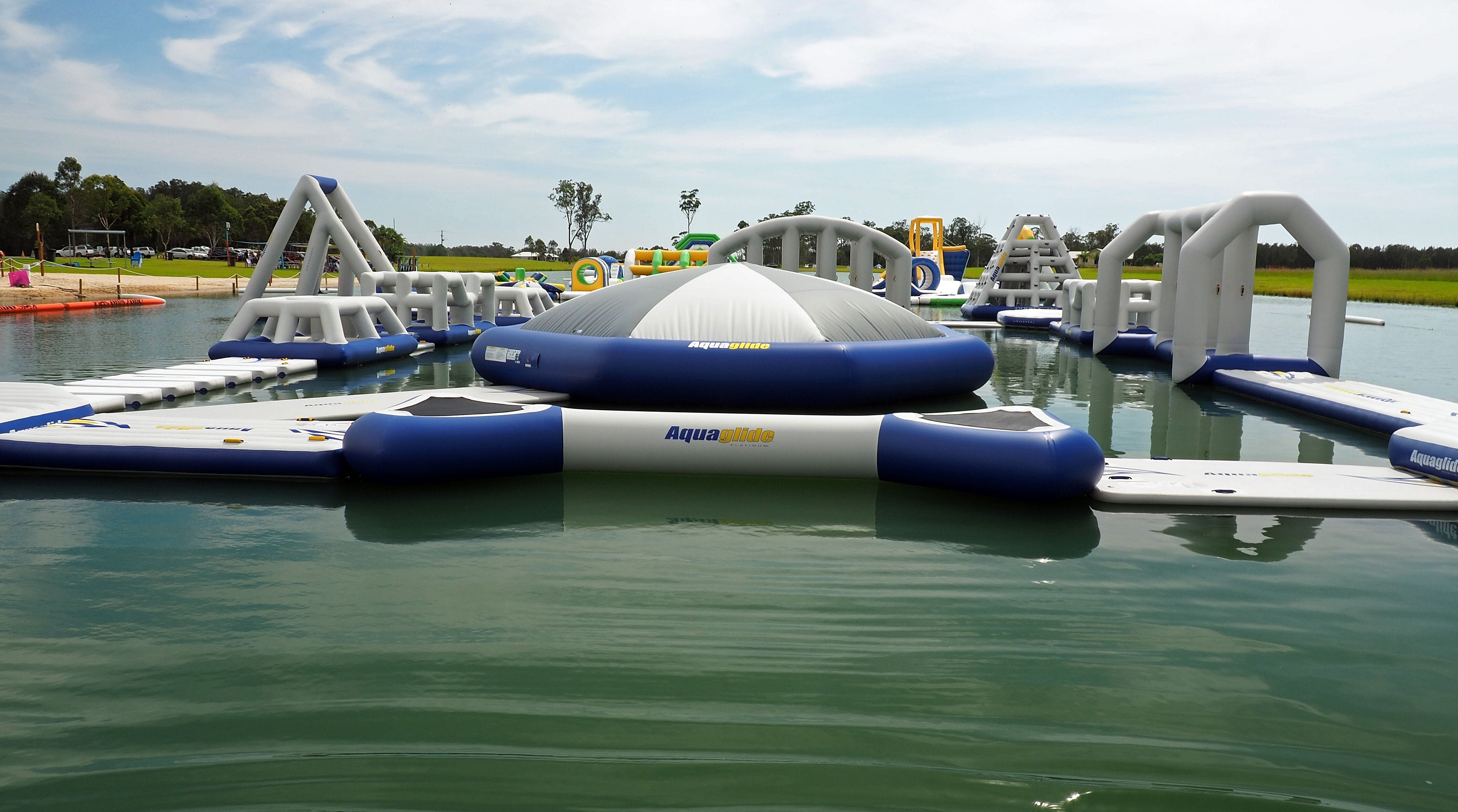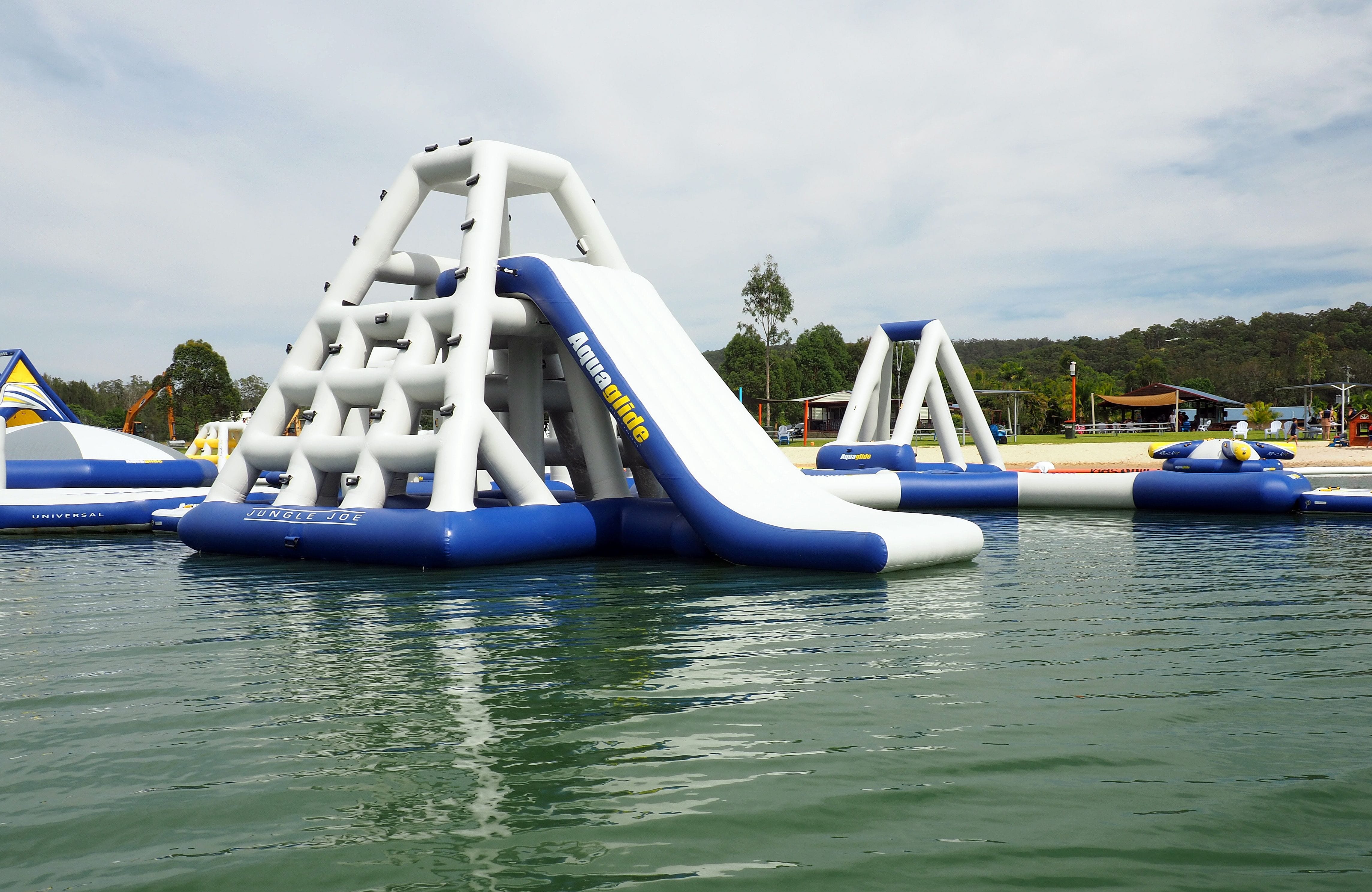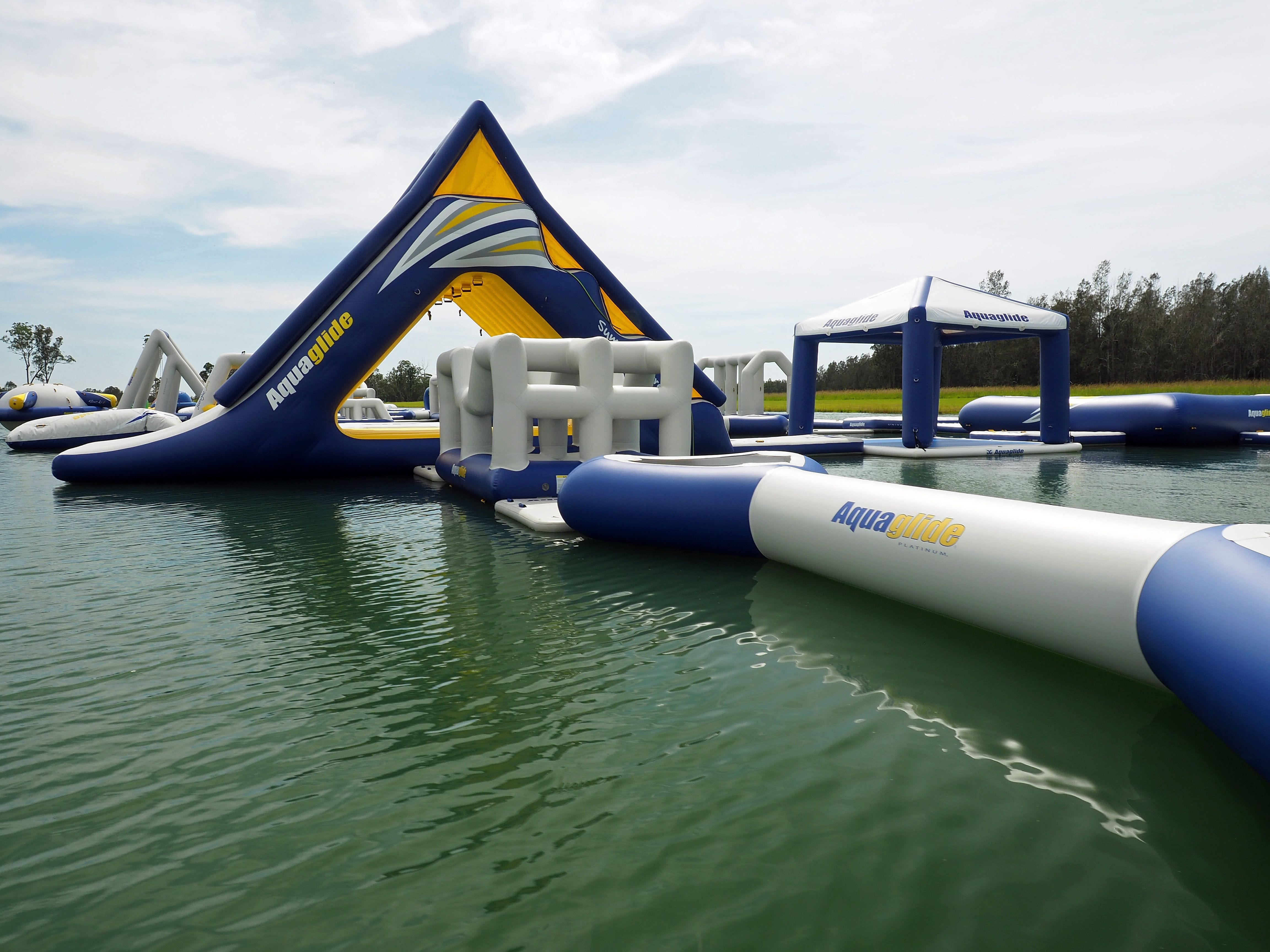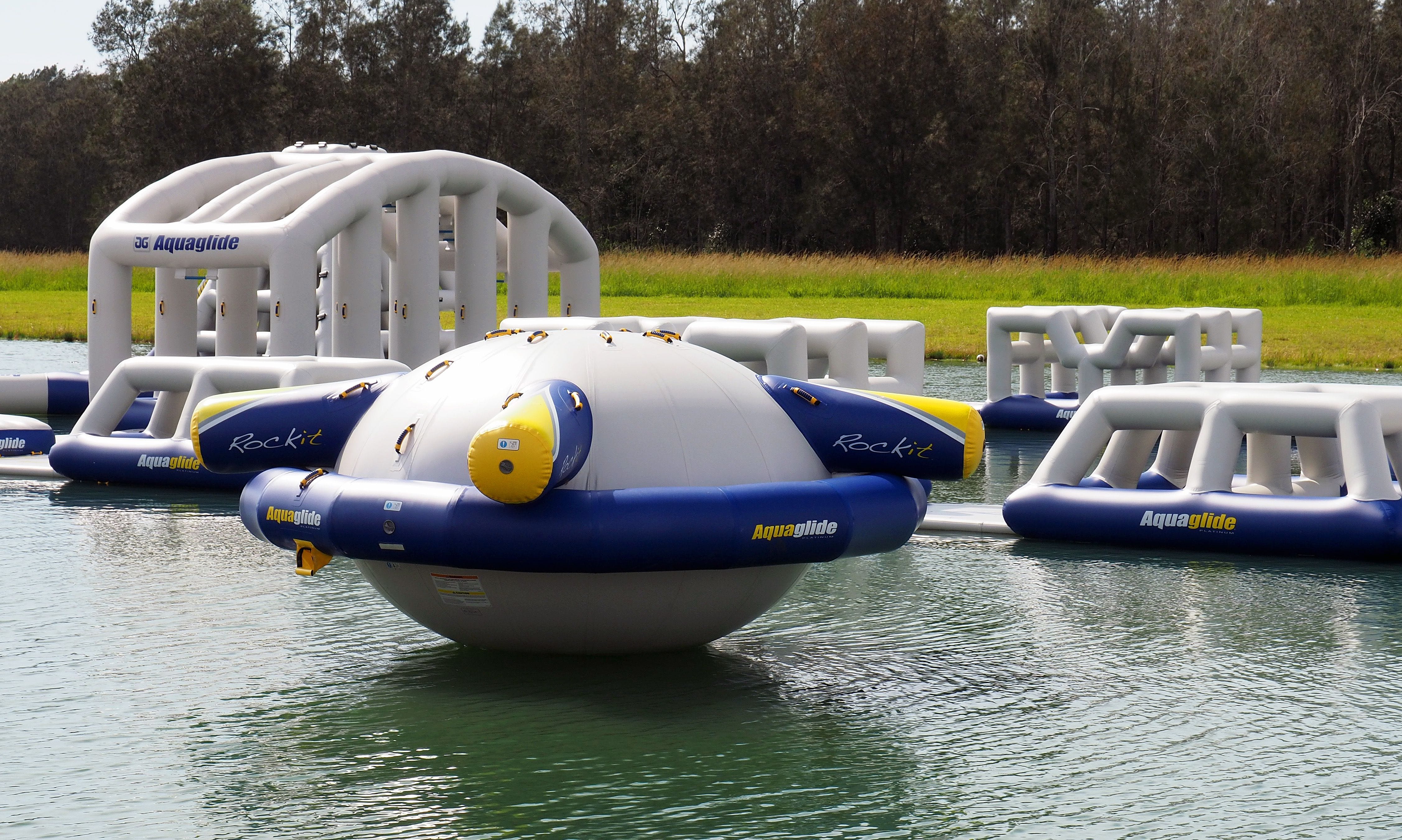 Dads particularly enjoyed sending their kids flying in the air off the blast bags.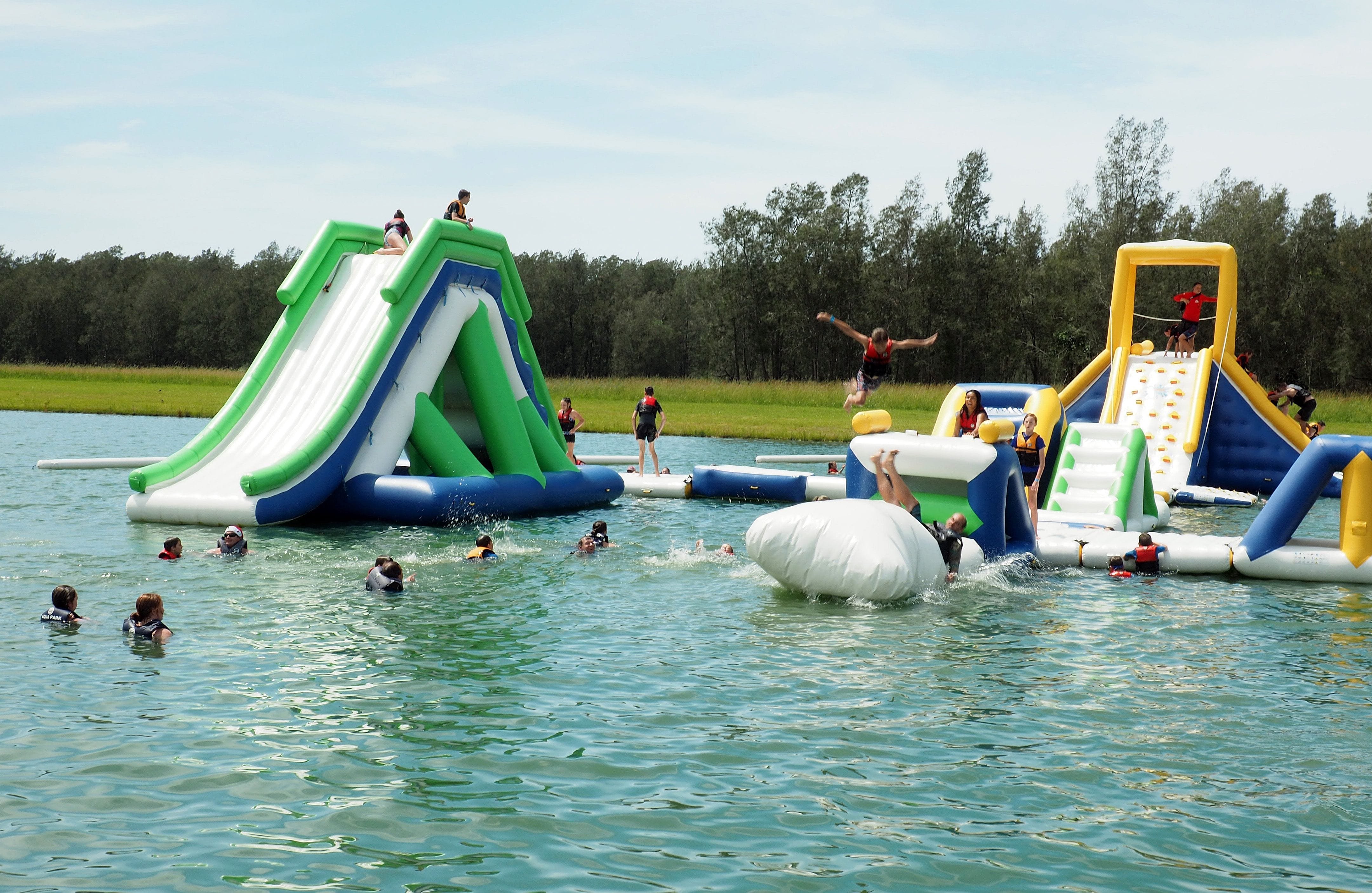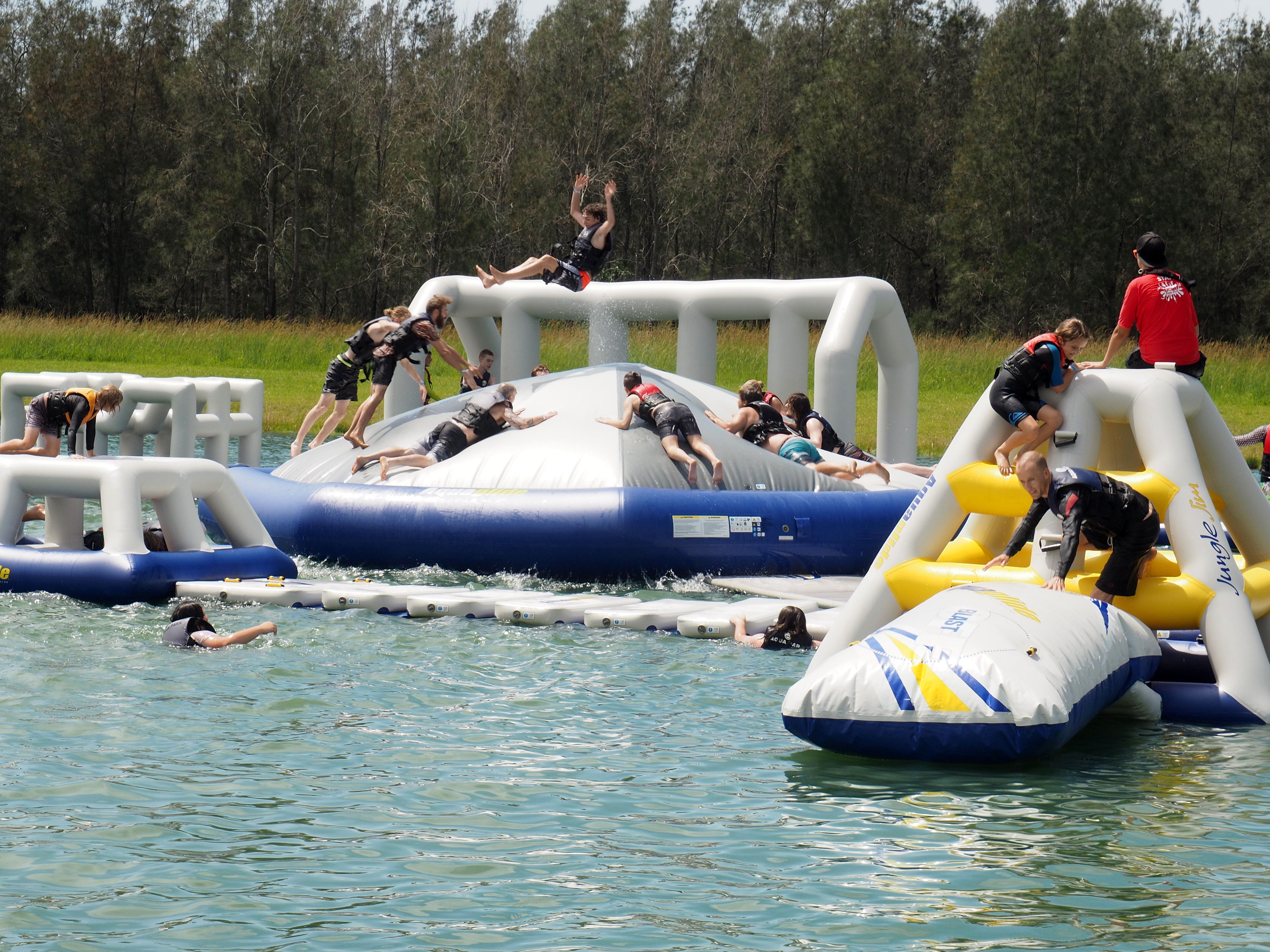 There are extensive floating walkways between the inflatable obstacles and you'll laugh constantly during the 50 minute session as you run, jump, bounce, slide, slip and fly through the air. When the buzzer goes off at the end of the session you'll drag your exhausted but very happy body out of the water.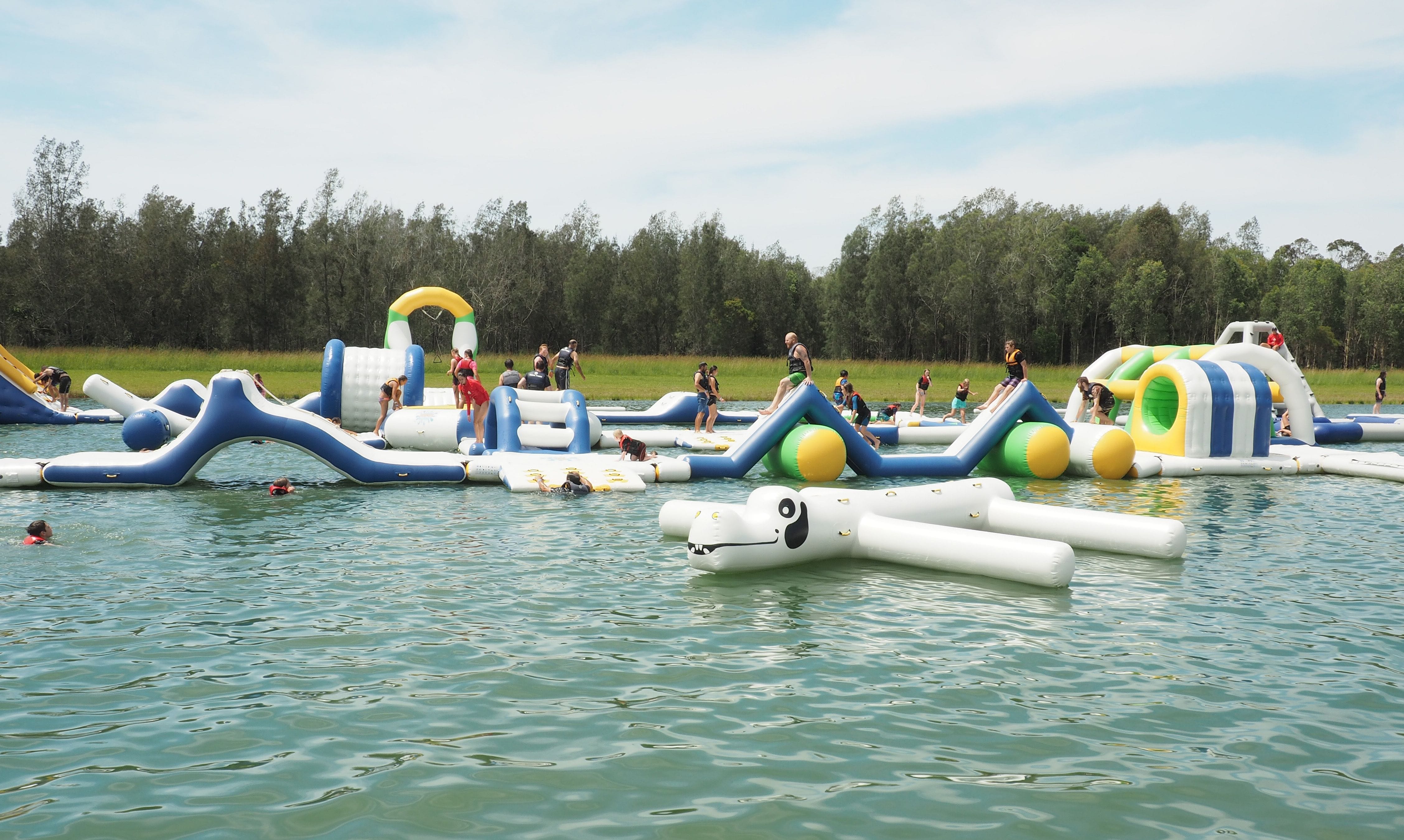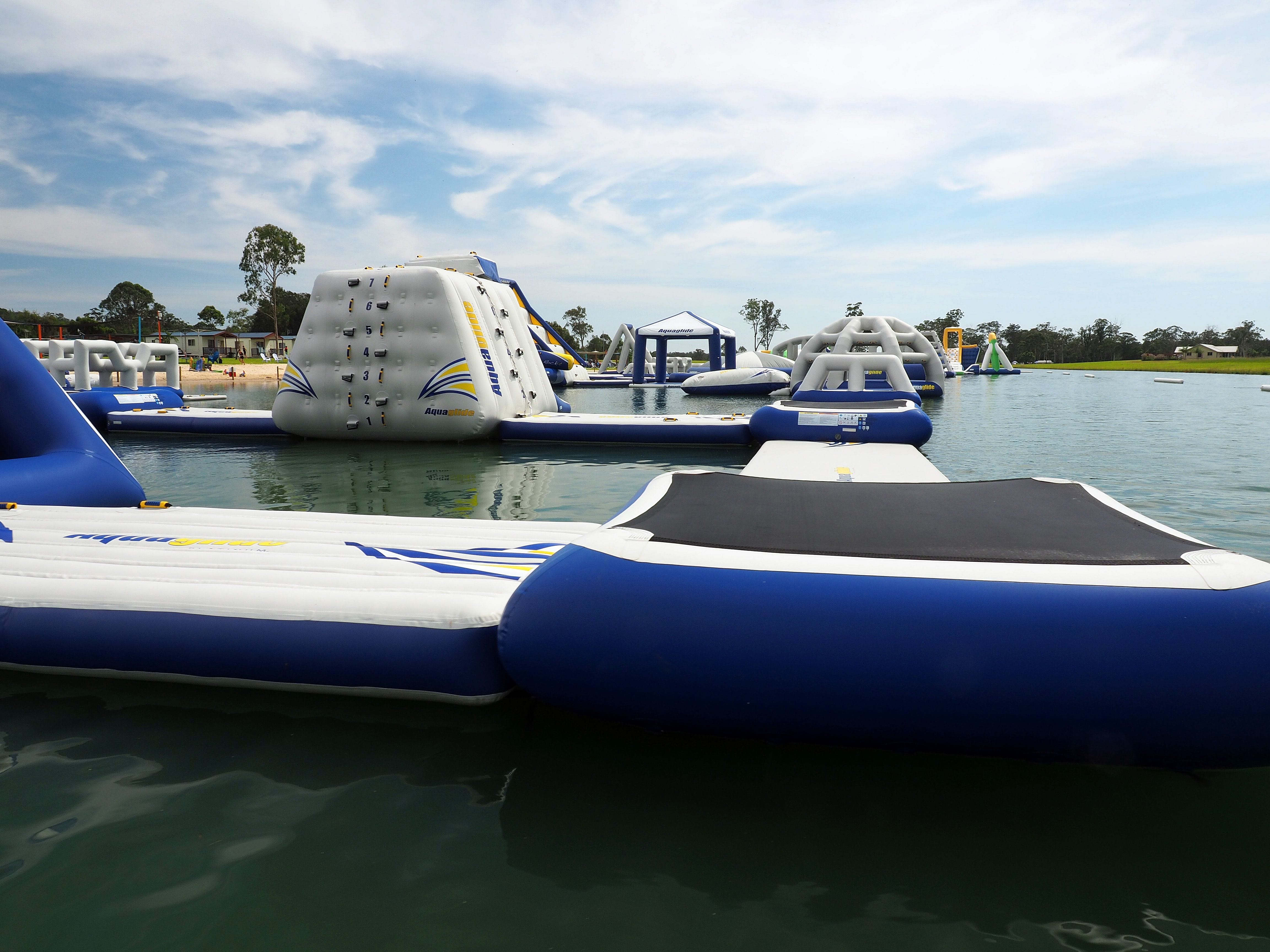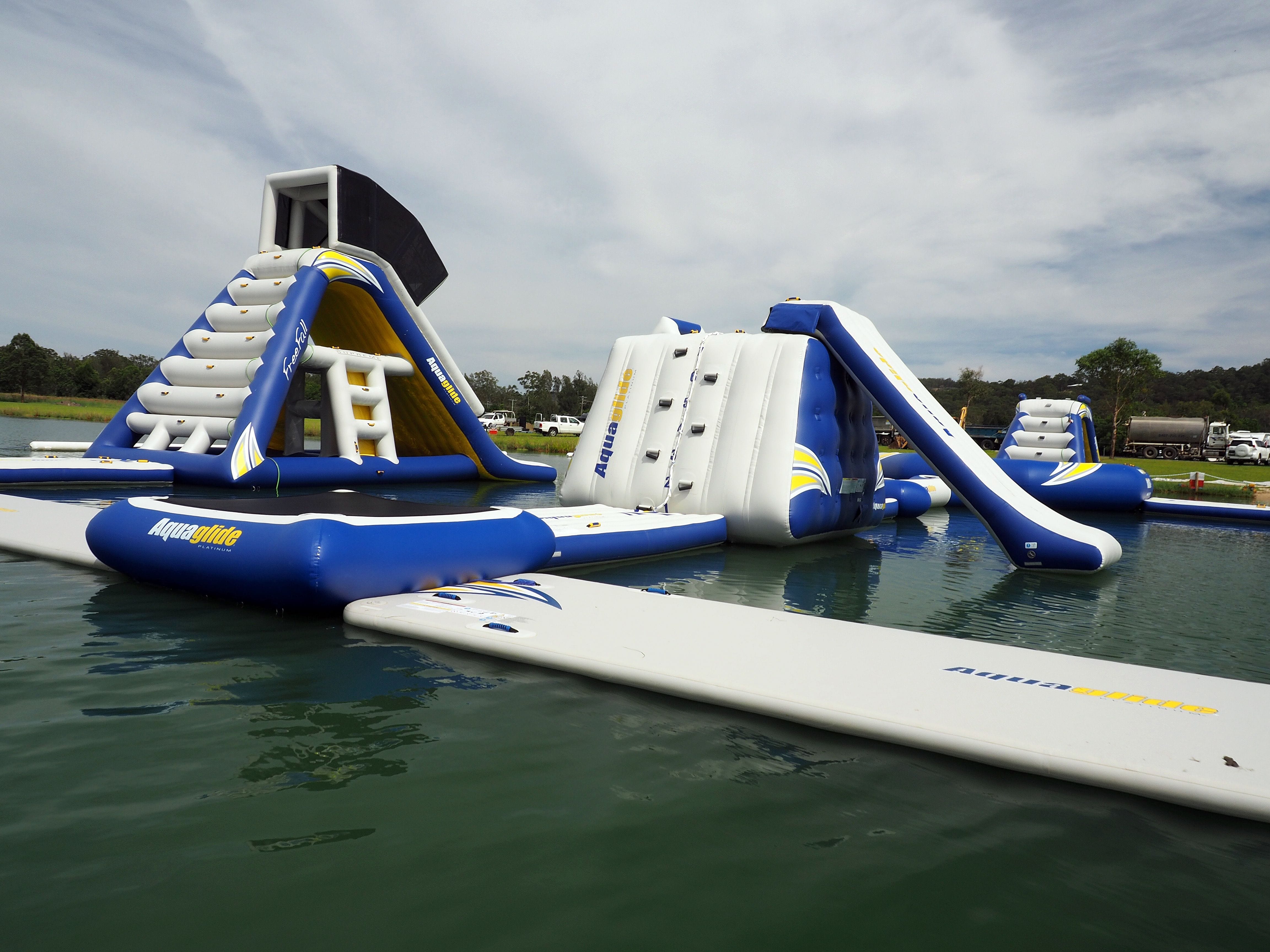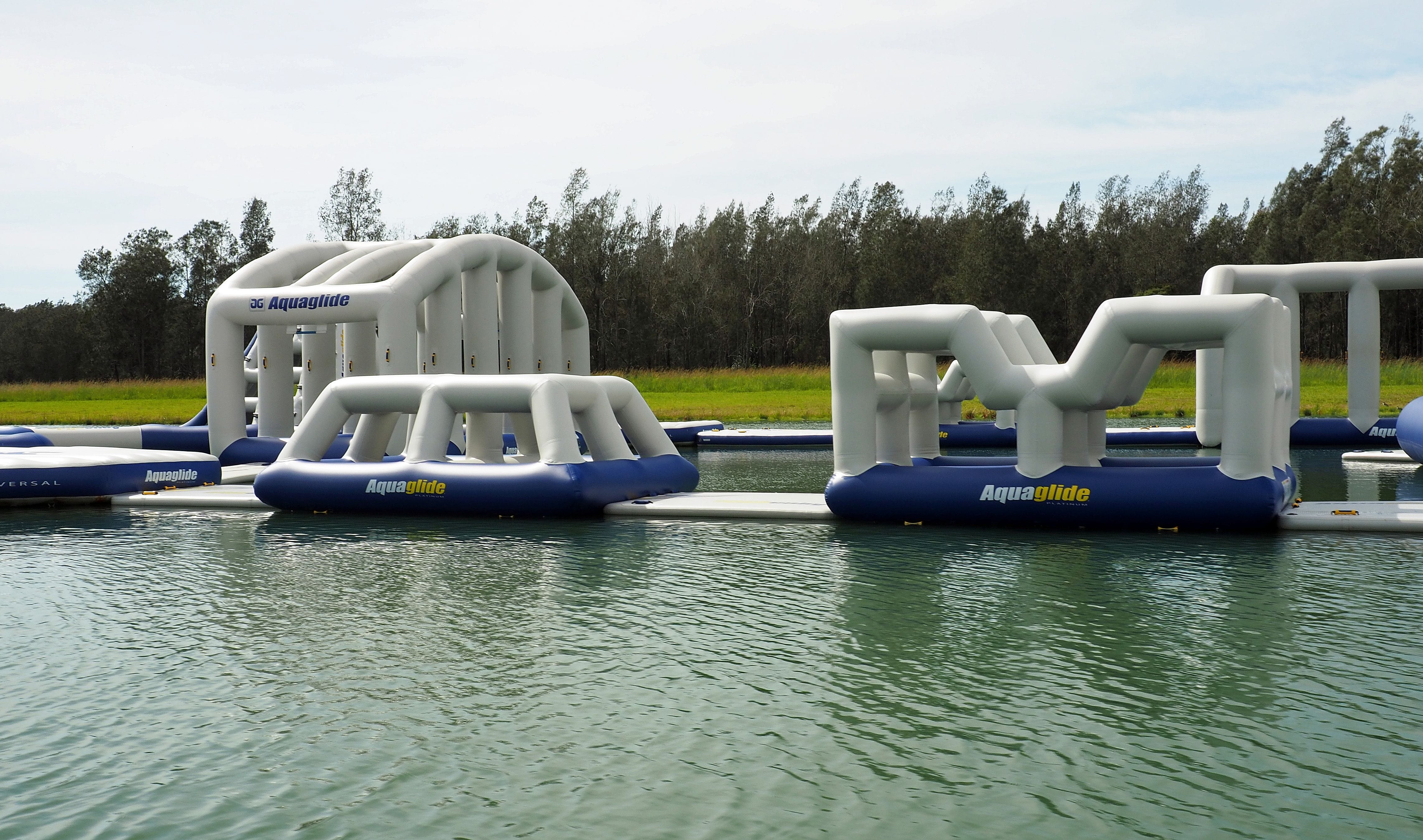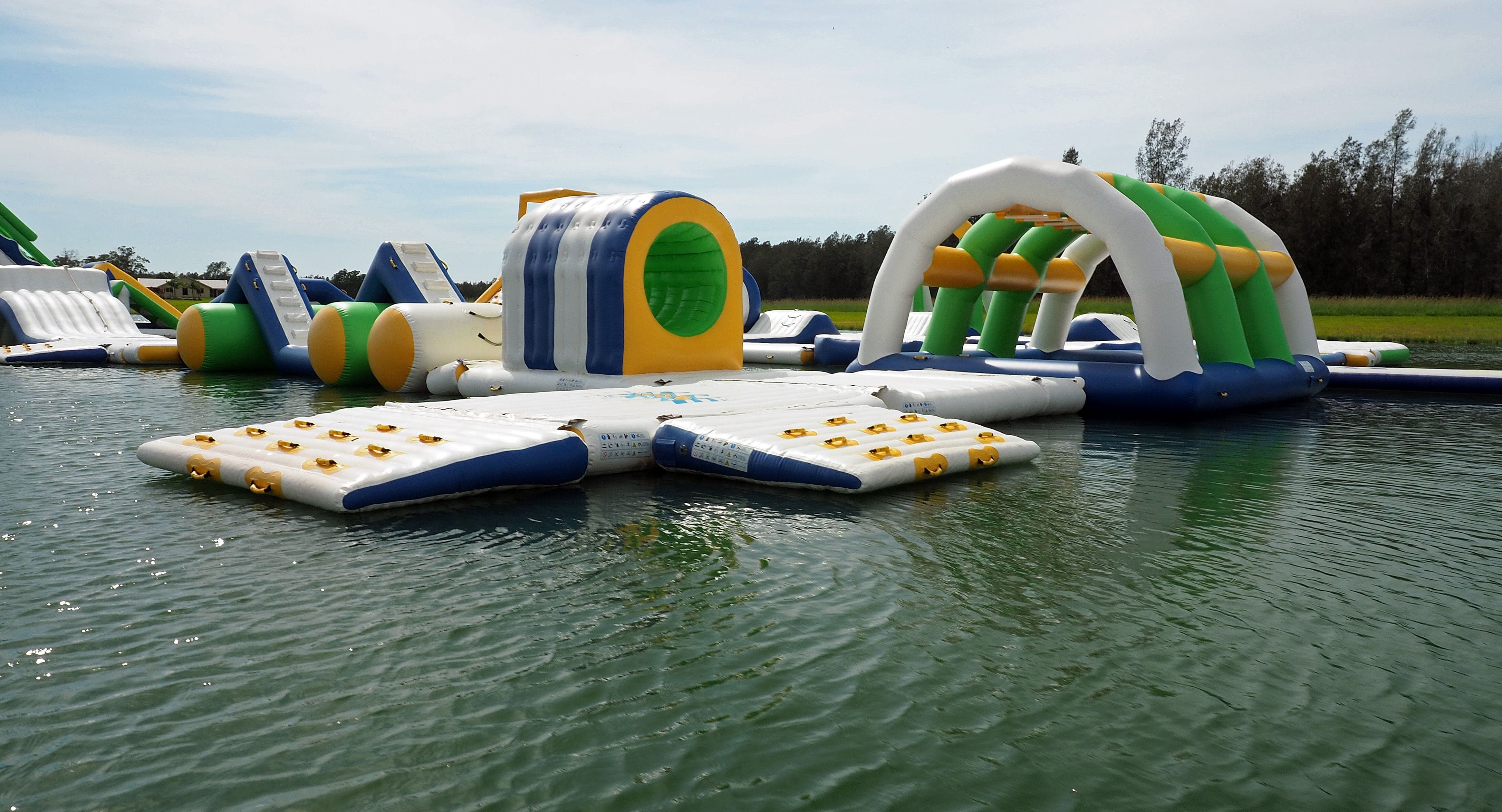 The park is open everyday throughout school holidays and during the school term on Friday afternoons and weekends. Sessions begin on the hour, every hour between 10am and 4pm and they ask that all participants arrive 30 minutes early to sign in, get a life jacket fitted and have a safety talk. The park will also open outside of normal hours for large parties and groups.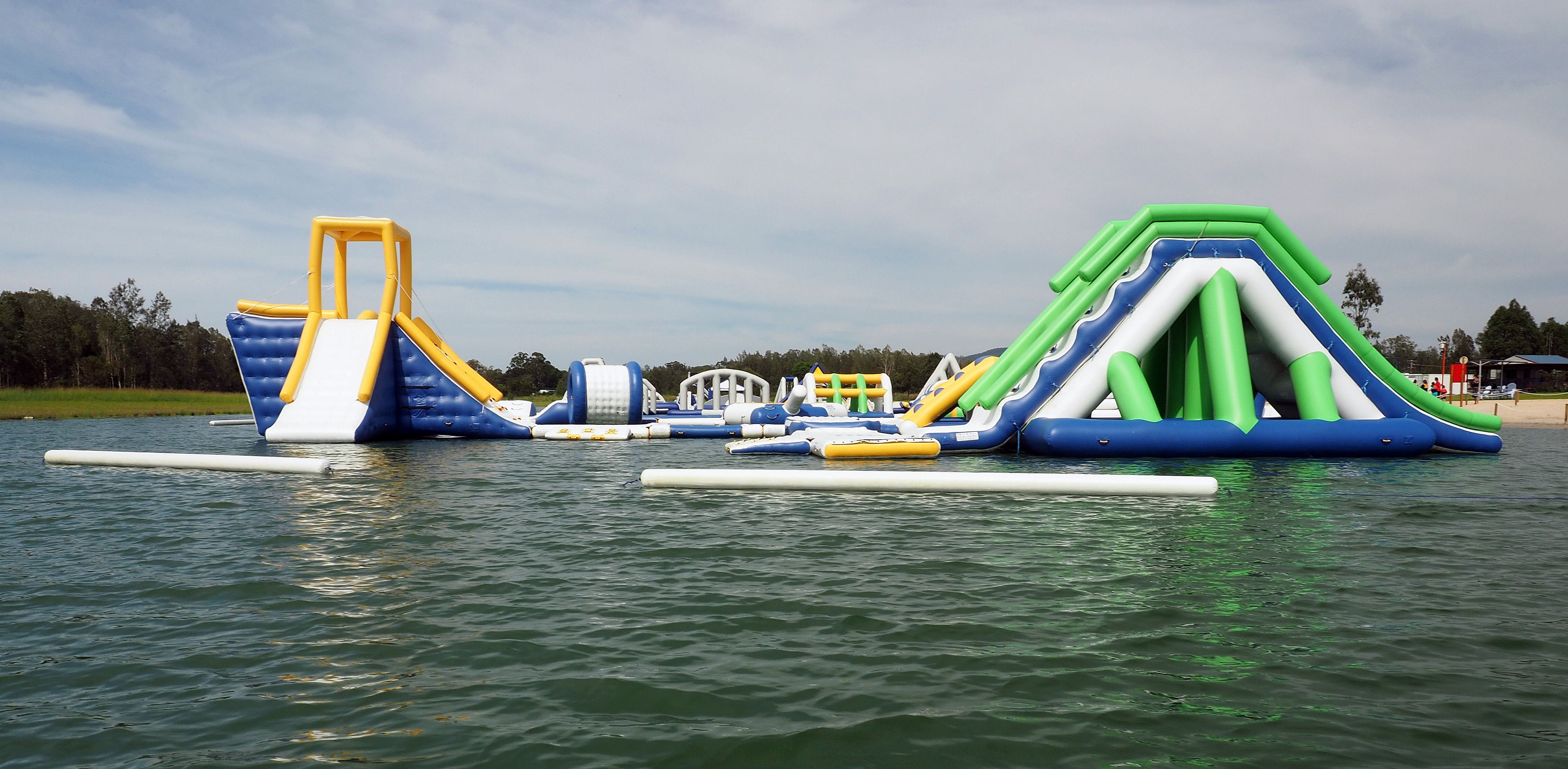 For something so much fun, it is also very reasonably priced at $20 for 1x 55 minute session, $35 for 2x $55 minute sessions and $55 for an all day pass. It is free for spectators and locals can purchase a season pass, meaning you can visit any chance you get!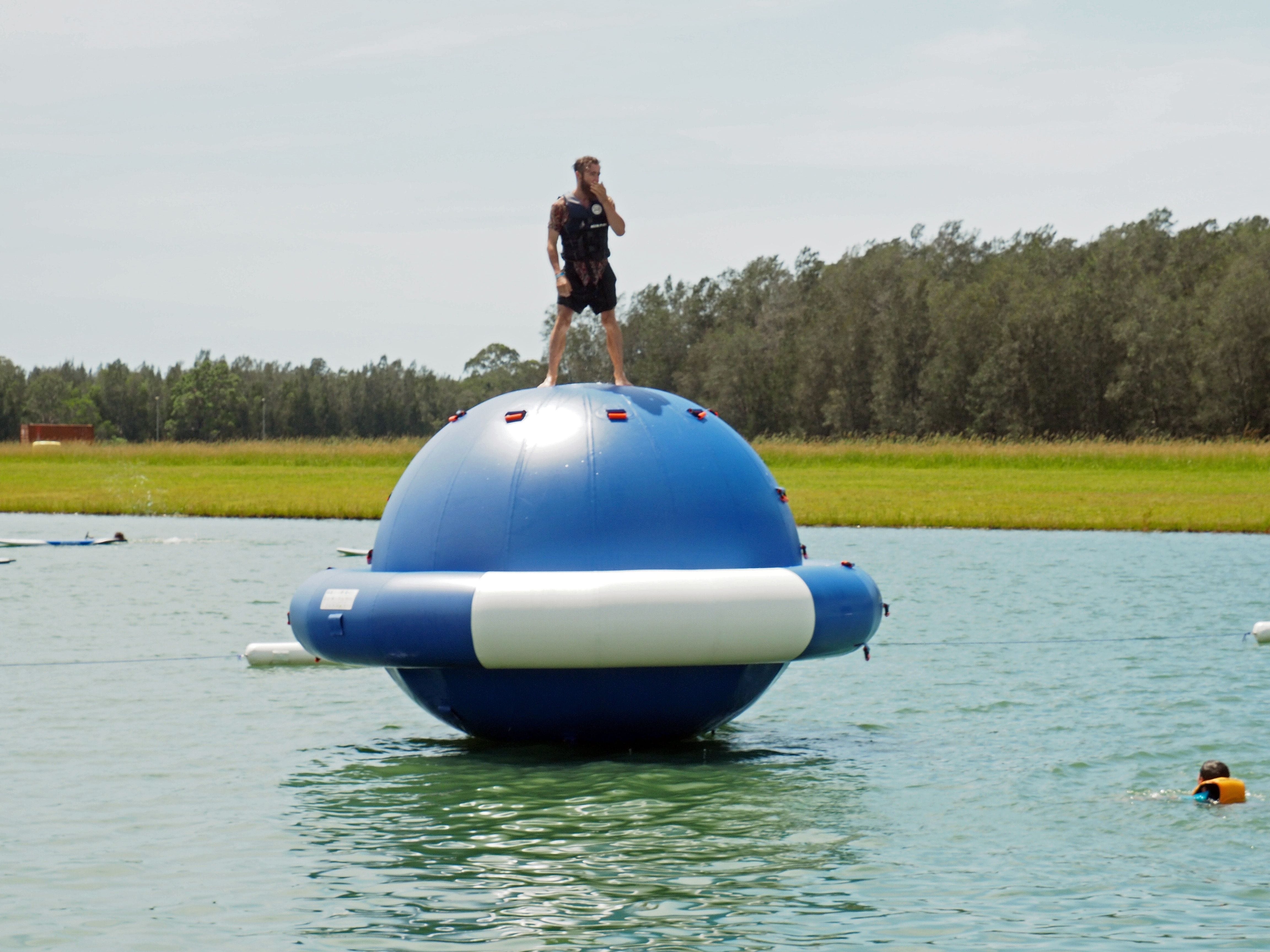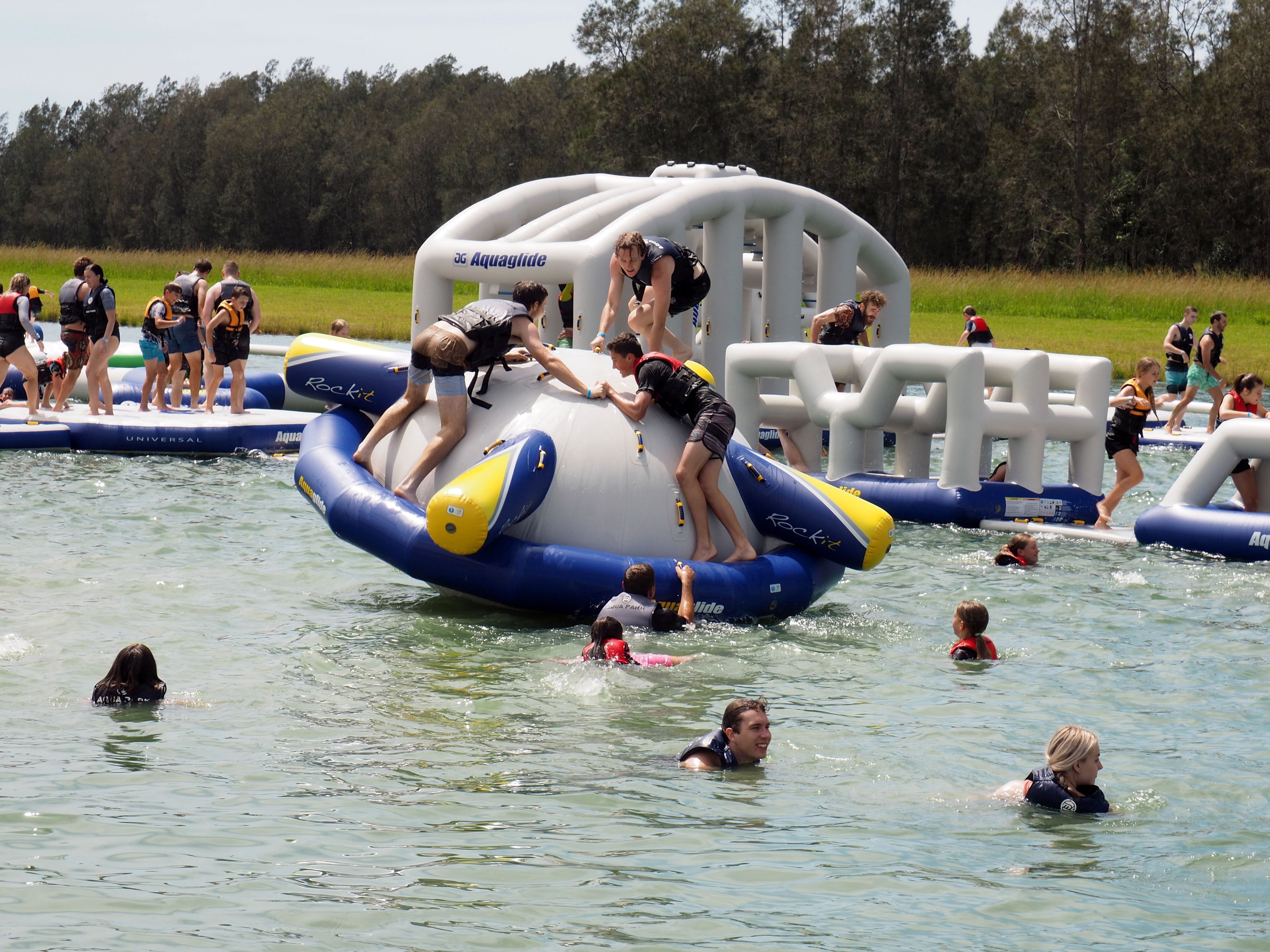 Stoney Aqua Park is an adrenaline packed, water lover's dream and a very welcome addition to the Mid North Coast. All ages and abilities will enjoy their visit to the Aqua Park and it's the perfect day out for families and groups of friends. Adults and kids alike will run, jump, slide, slip and laugh to their heart's content and everyone will leave happy and exhausted after a fun day at the awesome Stoney Aqua Park.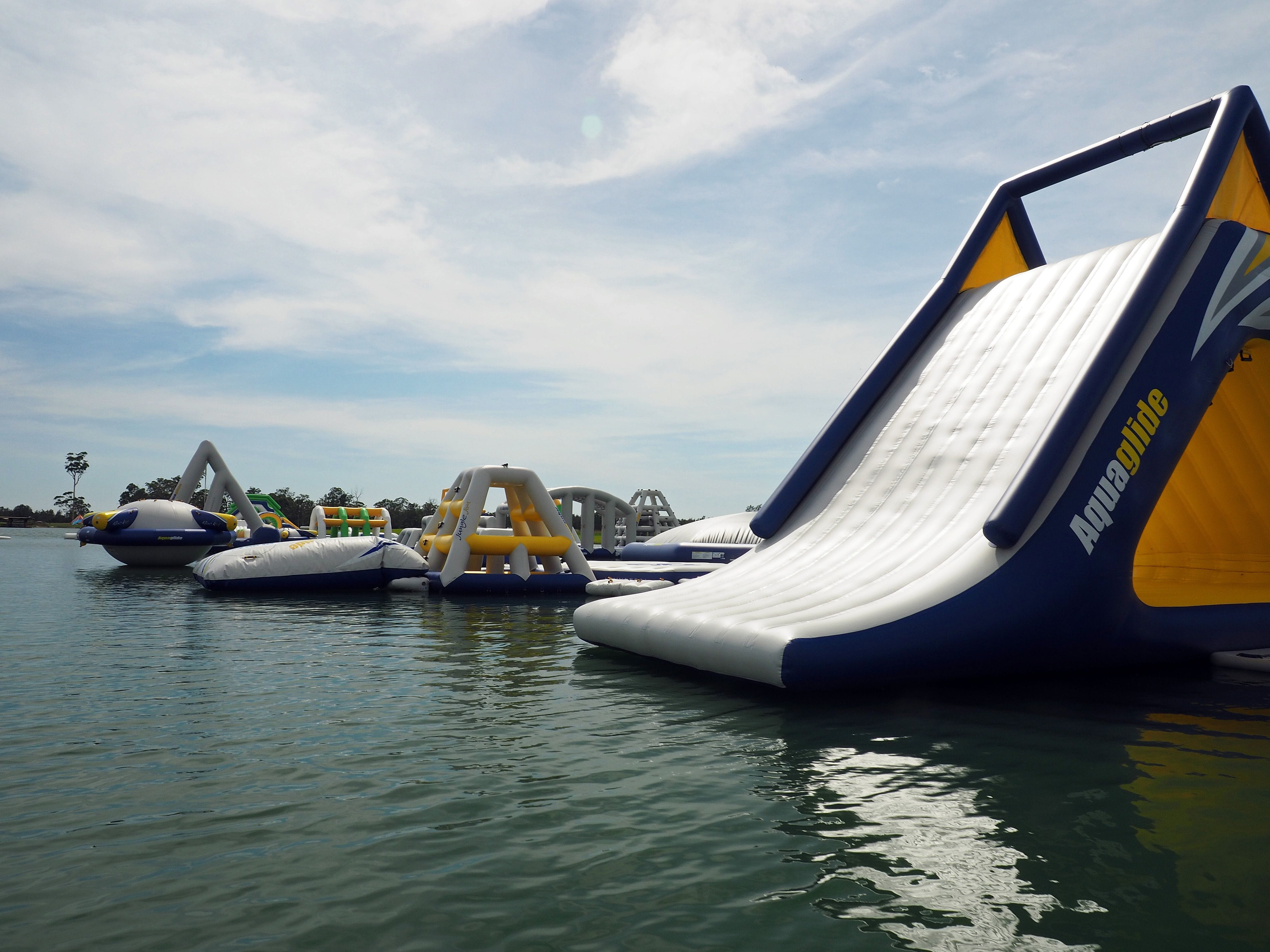 The opening of Stoney Aqua Park has brought a new and much needed family-friendly attraction to Port Macquarie, which the locals are loving and will certainly draw more people to our beautiful region.
Stoney Aqua Park
16 Hacks Ferry Rd,
Telegraph Point NSW 2441
Ph: 02 6585 0090
info@stoneyaquapark.com.au
www.stoneyaquapark.com.au
Author:
Discover Media Australia
About: Locally owned and operated by local husband and wife Andrew and Lucy Kowalewski, Discover Media Australia (DMA) is your go-to for tourism advertising and marketing.
Post comment