Ricardoes Tomatoes & Strawberries - a visit with farm owner Anthony Sarks
Posted by Discover Magazine Port Macquarie on 11 July 2018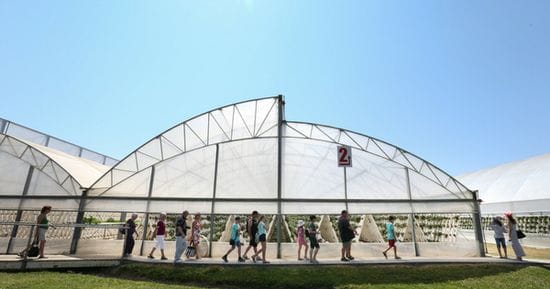 There are so many amazing places to visit on the Mid North Coast and we're here to help you discover them!
In July we feature Anthony Sarks farm owner at Ricardoes Tomatoes & Strawberries as our #LocalTourGuide.
Imagine saying "I Do" among the tomato vines! Or tasting your first sweet fresh-picked strawberry. From wedding proposals to award-winning produce, Anthony Sarks of Ricardoes Tomatoes & Strawberries has farmgate experiences for everyone to enjoy.


Do you get any time off to enjoy being on holiday at home on the Mid-North Coast?
Life on a strawberry and tomato farm is pretty intense 24/7 to ensure the best conditions for growing top quality produce year round and keep our visitors smiling. We have the Mid-North Coast's most extensive tomato greenhouses and our strawberry avenues range over several kilometres long so there are constant tasks to keep us on our toes.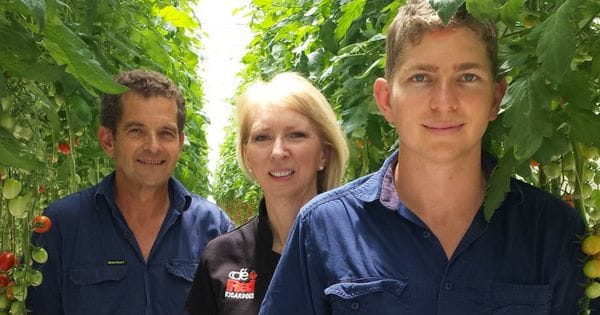 But we're a family business and my wife Carole and son Tony and I work together well. Tony's my right-hand man and general manager of the farm and Carole supervises our Cafe Red and shop, keeping everything humming during the cafe's opening hours 9am to 3pm seven days and the shelves stocked with our range of 30 farmhouse preserves, gourmet local foods, fresh veggies, souvenirs, sweets, takeaway refreshments and novelties. That said, we have a terrific staff of 20 who enjoy their roles in the Ricardoes team and step up to look after everything when we occasionally take time out.

What's your top recommendation for holiday makers?

You can't go past visiting us at Ricardoes there's something for everyone here from toddlers to seniors (and high chairs and bottle warming for the babies!) There's a reason why we're the most awarded local attraction: magical strawberry picking from easy-to-reach vertical frames, NSW's top prizes for best tasting tomatoes, and national gold medals for our country-kitchen jams, chutneys, salsas and other preserves. Entry and our escorted farm tours and our preserves tasting samples are all totally free and we're open 364 days a year. All our attractions are under cover for rainy, windy or cold days and our Cafe Red is fully air-conditioned.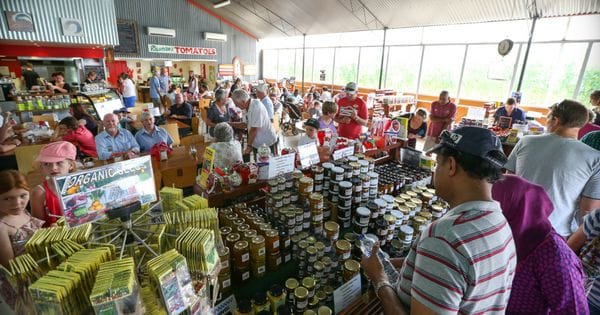 What's your suggestion for a day out exploring in Greater Port Macquarie?

A round trip of three varying attractions along our patch of the Pacific Highway taking in our farm, with plenty for all the family, a visit to Cassegrain Wines for the grownups, and dropping in at Billabong Zoo for the kids. Take the Hastings River Drive exit from town, come north on the highway a couple of kilometres and follow the signs to Ricardoes. Start out early to make the most of your day: we welcome visitors from 7am weekdays and 8am weekends. You can have breakfast with us from 9am (or morning tea or lunch), go strawberry picking, sample our farmhouse preserves and enjoy our escorted farm tour at 11am find out all about how our busy BEES help make our strawberries plump and sweet!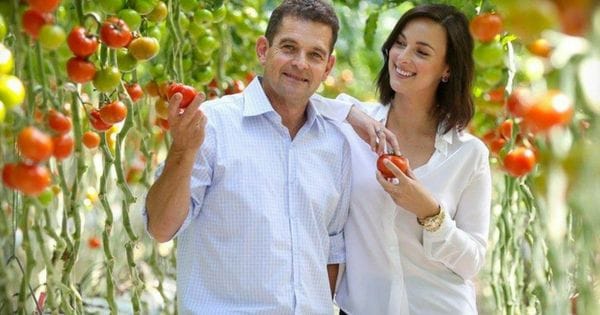 Then make your way south on the highway, calling in at Cassegrain's Cellar Door, and on to the Billabong Zoo. Then it's an easy return into town via the big roundabout known as "the Donut".

Can you share something unusual about Ricardoes?

Does that picture above look familiar? That's me with our daughter Lydia - you may recognise her from her Toyota TV commercials. We're very proud of her and she enjoys getting back to the farm in her RAV4 in between shoots. She helped me plant our first crops.
We're constantly amazed and thrilled to meet our wonderful visitors from around Australia and overseas. Here's a picture of some tiny kids who just loved being able to pick their own strawberries without any help from mum or dad.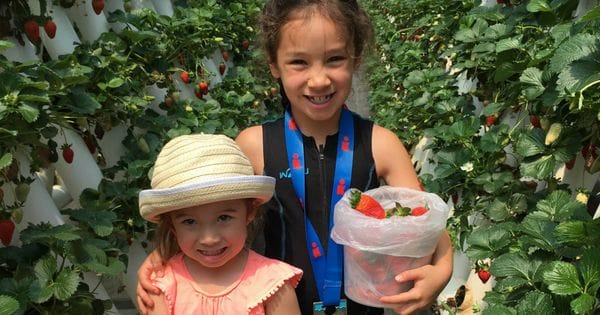 And then there was a young man from Sydney who brought his girlfriend on a "mystery tour" to our farm. Tomatoes are her favourite thing so he secretly arranged with us to propose to her among our Jack 'n' the Beanstalk vines! It must be one of the most unique and memorable marriage proposals by a groom ever. His fiancée was overwhelmed. And she said yes!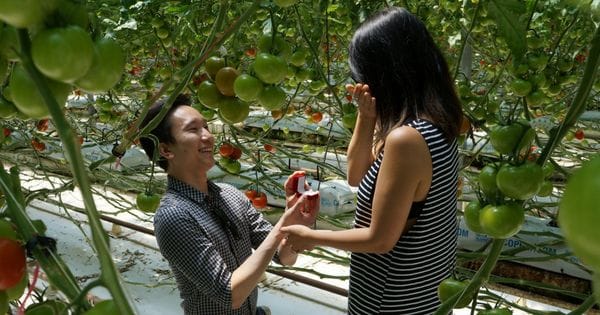 What other recommendations does Ricardoes share with visitors?

I recommend calling in early in your holiday to the Glasshouse Visitor Information Centre in the CBD where you'll find a big rack filled with about 60 or 70 informative brochures on all kinds of local attractions to help you plan to make the most of your holiday - and a hard copy of Discover Magazine for quick reference and a handy regional map. Brochure stands are also located at a number of leading hotels and accommodation spots and look out for them also at prominent locations around town.
Other online resources are at Port Macquarie Info and Visit NSW for adventure, sport, walking trails, beaches, rivers, parks, entertainment, cafes and restaurants, museums and galleries, shopping, markets and more. You won't be lost for plenty to do.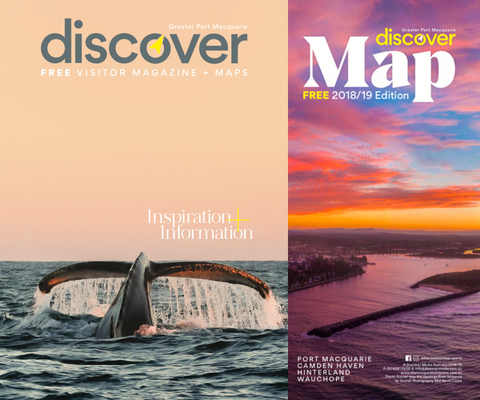 From humble beginnings with an honesty box at the farm gate to promoting the growth of green enterprises across the Mid North Coast, tell us more about your business successes.
We love to share the story of how Ricardoes began with just a few tomato plants and an "Honesty Box" at the farm gate. The reaction: "This is how tomatoes used to taste!" saw us expand to what you see today. We're also a keen "green" enterprise: our huge bank of solar panels you see at the roadside provides much of the power for our air-con, cool rooms, fridges and so on. It's just one of many recycling and other measures we take to care for the environment. For example, we fuel our boilers with macadamia nut shells, recycling and avoiding this waste disposal from North Coast nut farms and saving on other forms of energy consumption.
Observers of small business operation might be interested to know about the synergies prompted by Ricardoes' growth. Initially, we sought a local chef to produce our preserves in a sterile professional kitchen. When other local farms and wineries saw the Fine Foods Awards heaped on our products that's grown to our range of 30 varieties they too sought out the business we retained, The Other Chef, and that enterprise has now grown exponentially into new premises to produce a massive output from the other growers too ... creating an entire new industry and employer for our region.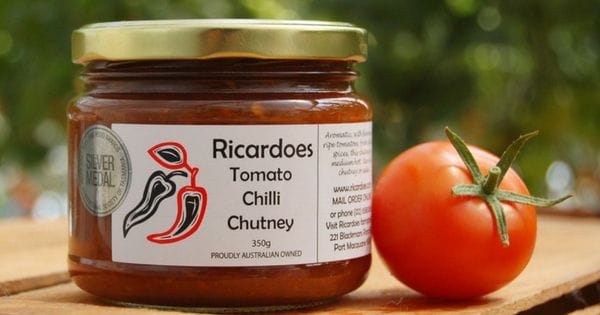 Another green achievement is that we save "food miles" and waste by converting our excess ripe strawberries and tomatoes (and other crops including citrus) to the sauces, salsas, jams and so on made in The Other Chef's professional kitchen. Pick up a jar or two in our shop for just a few dollars: they make great take-home souvenirs. We also grow various other veggies such as lettuce and cucumbers for sale here, alongside consignments we bring in of potatoes and a big variety of other fresh produce from neighbouring farms. It's a great opportunity for campers and caravanners to stock up on wholesome supplies.

How do visitors find Ricardoes?

If you're coming from the north on the highway, call in on your way into town - exit to Blackmans Point on the roundabout. If you're heading to the north, ditto. We're easy to find with a sealed road all the way and a massive sealed car park. From central Port Macquarie we're a leisurely 10- or maximum 15-minute drive.

If you'd like to try our top-awarded preserves before or after your visit we offer mail order purchase at Ricardoes.com - check out our impressive range. And be sure of a very warm welcome at Ricardoes.
Photo Credits: Lindsay Moller Photography | Ricardoes Tomatoes & Strawberries

Author:
Discover Magazine Port Macquarie
Post comment