Feature | The Artist Behind Our Winter Cover
Posted by Discover Media Australia on 20 August 2017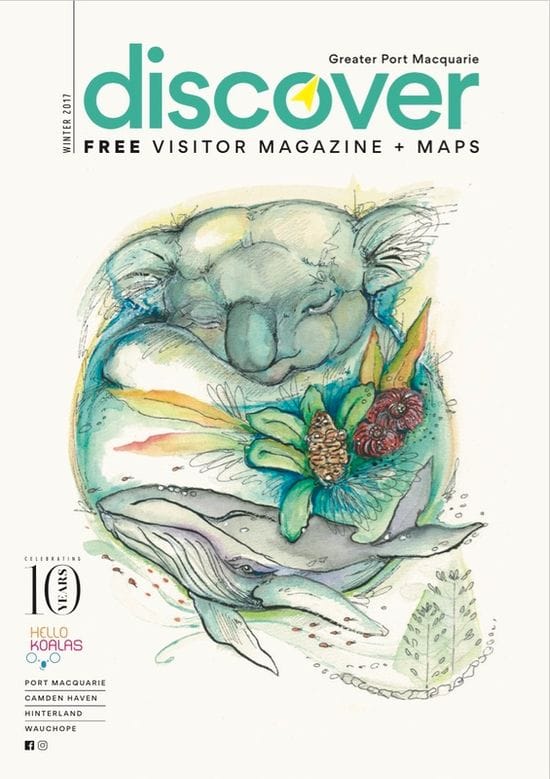 The hugely talented local artist, Melinda Casey, is known for her live art performance and Mural art located in and around Port Macquarie.
Above photo | Melinda Casey
Finding the perfect cover for our next bi annual magazine is an ongoing job. Each edition, up until now, has been a photographic image of some sort that normally showcases something remarkable about our region. After we changed the design and look of the magazine last year, we felt it was an appropriate time to continue with the new trend and try an illustration for a change. It was an easy decision for us to commission Melinda to illustrate the stunning cover of our Winter 2017 issue of our Discover Magazine. Her artwork is truly beautiful!
The brief for the Winter magazine cover was to showcase the natural fauna and flora of our region and what makes us unique. What Melinda came up with was simply stunning! The illustration captures the beautiful and vibrant colours of our region, the aquas and blues of the ocean, greens of the rainforest and hinterland, and our signature Norfolk Island pines. Not to mention the main focus of the illustration - our Koala and Humpback Whale. Port Macquarie is a koala haven and home to many of these adorable furry friends - you can also visit the world's first Koala Hospital here! We are also blessed to witness the annual whale migration each season when our waters come alive with playful humpbacks and their offspring.
So naturally for this special cover we decided to celebrate the koala, one of Australia's most iconic animals, and the majestic humpback whales who grace us with their presence each winter. There was a lot of work behind the scenes that Melinda put in to reach the final illustration - have a look at how the image evolved from first concept to the final piece.
Cover concept artwork in progress
Concept 1
Concept 2
Concept 3
Concept 4
Concept 5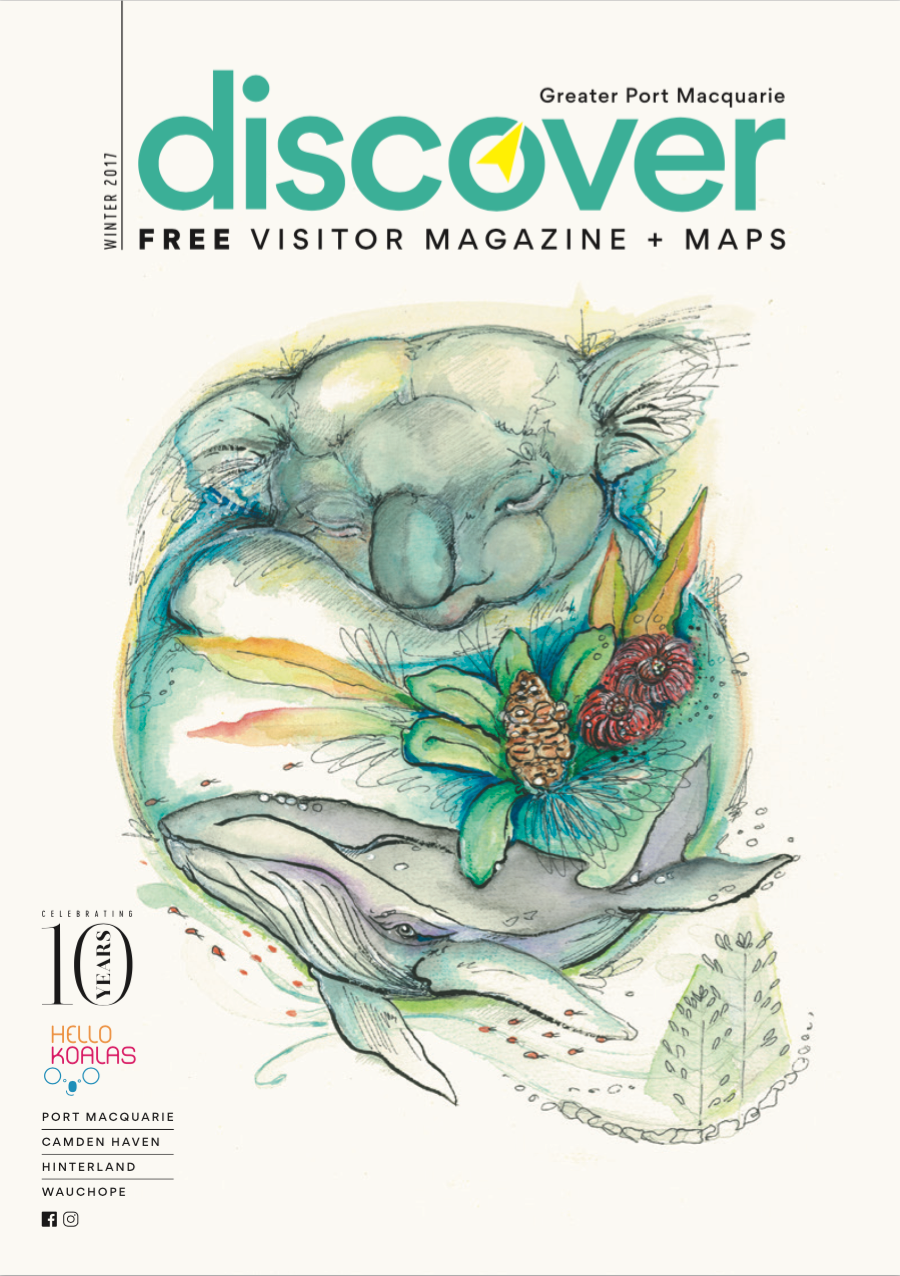 Concept 6 - Final Artwork
You can see more of Melinda's awesome artwork at the Latin Loafer,Beeline Toy Store, the "If We All Had Wings" wall (with Adam Murray) near Arthouse Industries, and the The Byabarra Cafe Bakehouse Bar + B&B. And watch our for her new wings wall out at the Wauchope IGA.
Melinda has previously exhibited her work at the Glasshouse Regional Gallery and the 'oneline' exhibition with Juan Cosgayon in 2015 at the Sunset Gallery. Illustrative artwork can be purchased from Arthouse Industries or contact her via Facebook or phone 0418 745 077.
There's only a few weeks left to pick up a copy of our Discover Winter magazine featuring this incredible cover on the front, so head to the Visitor Information Centre at the Glasshouse (4/13 Hay Street, Port Macquarie, Ph: 1300 303 155) to grab one today.
Author:
Discover Media Australia
About: Locally owned and operated by local husband and wife Andrew and Lucy Kowalewski, Discover Media Australia (DMA) is your go-to for tourism advertising and marketing.
Post comment