Camden Haven Feature - Weekend Inspiration for 5-6 August
Posted by Discover Media Australia on 3 August 2017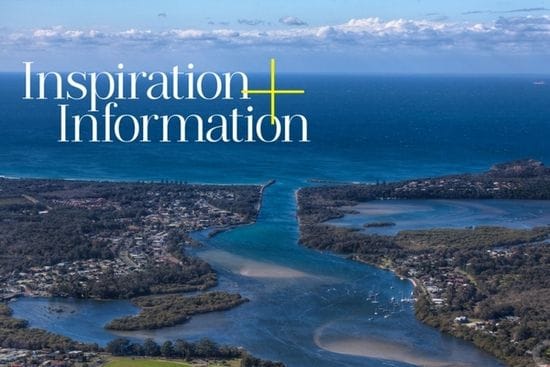 Make some plans to discover the Camden Haven area this weekend!
Located about 15-40 minutes south of Port Macquarie, this breathtakingly picturesque area is home to a series of waterways forming the Camden Haven Inlet and cradled by North and Middle Brother Mountains. Stunning beaches, rivers and national parks with a relaxed lifestyle to match.
The area includes the villages of Lake Cathie, Bonny Hills, North Haven, Camden Head, Laurieton, Dunbogan, Lakewood, Kew, Kendall & Lorne.
Here's a taste of what you can experience:

Long Point Vineyard + Gallery in Lake Cathie is a delightful cellar door and art gallery set amongst picturesque vines. Here you can taste fine wines while viewing our region's talented artists, with exhibits changing every two months. Wander their grounds and experience the stunning outdoor sculptures including "The Wanderers" and "Windsong". Truly a must to visit. Open Saturday and Sunday 10am until 5pm.

Visit the studio of the extremely talented Rod Page at Crystalline Pottery located in Bonny Hills. Rod has been supplying galleries throughout Australia for the last 33 years and now his studio is open to the public. Rod's unique pieces look like they are made of sapphires or diamonds. There are vases, platters, lamps, water filters as well as tiles and vanity basins in a wide variety of colours. See how the clay is transformed into an elegant piece of art! Open most days but call ahead on 6585 4035 to avoid disappointment.

At Bonny Hills Garden Centre & Cafe they stock the largest range of plants in the Hastings region. Their massive water pond feature sets the scene for a relaxing real life experience of plants, pots, water features, landscape supplies...everything. Upon entering you'll find spacious sealed car parking, and wide wheelchair friendly pathways. Or stop in to relax with a great cup of coffee and lunch at the Garden Cafe that overlooks the magnificent dam. Then continue to browse through the Garden Centre where you will find many fantastic gift ideas, beautiful garden ornaments and water features in their newly renovated gift shop. Garden Centre is open 8am until 5pm and the Garden Cafe is open 8am until 4pm.

If it's oceanfront dining you're after, then The Fat Fish at Bonny Hills is the obvious choice. It's only a 20 minute drive south of Port Macquarie but you will feel like you've escaped it all. Take in the stunning beach front setting overlooking Rainbow Beach, while Karyn and her team treat you to modern Australian cuisine created from local produce including mouth-watering wild Australian caught seafood. The scrumptious daily specials and delicious desserts will keep you coming back for more. Breakfast, lunch and dinner (Friday and Saturday) are served at this little gem by the sea, so be sure to book a table on the balcony and keep your eyes open for dolphins and whales passing by.

North Haven Cafe & Takeaway is a great spot to stop and grab a bite to eat or enjoy a nice cup of Holy Goat coffee. With a park and picnic area opposite and the waterfront nearby, this surf themed cafe offers a great choice of burgers, fresh beer battered fish and chips, homemade hand cut scallops, fresh sandwiches and wraps. Cool down with a mouth watering scoop of ice cream - 24 flavours to choose from - and pick up a loaf of bread and some milk. Open Saturday 8am to 7.30pm and Sunday 8am to 7pm.

Take a moment to stop at North Brother Mountain Lookout in Dooragan National Park (photo below) and be amazed by the stunning view of Queens Lake and the Camden Haven River winding it's way out to sea. There is also an easy 30 minute walk through lush rainforest, or try the Top Track which is a moderate one hour walk. You can return to the summit or continue on the Laurieton Track, which is a demanding two hour walk (make sure to have a vehicle waiting at the other end).



At Blue Gum Woodturning Gallery you will see a breathtaking display of rare and beautiful timbers. They specialise in products made from the unique Burls with their natural grain and beauty as well as the highly sought after Australian native timbers including those from Tasmania. All pieces are certain to provide years of enjoyment and appreciation. Besides their beautiful Burl tables with their natural legs, you will find a comprehensive range of products for the kitchen, household/entertainment and office. A place not to be missed while visiting the Hastings region. Open most days from 10am until 4pm, however best to call Bruce ahead of time to avoid disappointment (6559 0211 or 0458 895 366, 16 Brother Glen Drive, Laurieton/Kew).

Are you or your parents looking to retire? Then you most definitely should check out Laurieton Residential Resort where stage 2 of the building is taking place. Their most affordable model starts at $365,000 and premium position homes with immaculate upgraded finishes are available for $480,000. Featuring first-class amenities, quality homes and spacious lots, the resort is set amongst tall timbers, beautiful landscaping and adjacent to Queens Lake, Best of all...there's no stamp duty and no exit fees! Over 55s Living never looked so good.

Head to Miss Nellie's Cafe for a homemade treat and see why this hip, hinterland cafe is one of the most popular hidden treasures of the Hastings. Nestled in the village of Kendall where the beaches meet the lush scenic valleys of the Camden Haven, Miss Nellie's is a modern-yet-classic haven for all. Defying the country cafe trend, the decor and the vibe is modern with a retro twist, and guests are greeted with a friendly and friends to indulge in the all-day lunch menu (including a generous Gluten-free offering). While you're there, why not take home some local goodies and gourmet gifts. Life is short, lick the bowl! Open Saturday and Sunday 9am until 4pm.

Did you know that there is a bamboo nursery located 12 minutes from the highway turnoff at Kew/Kendall? Benwerrin Bamboo Nursery in the Lorne Valley specialise in non-invasive clumping varieties for privacy, screening, hedges, ornamentals, windbreaks, erosion control, timber and bamboo shoots for food. Advanced plants for landscaping are available by order and transport can be arranged. This season they have edible shoots as well as treated poles and a variety of garden plants and pots. Established variety displays can be viewed on the property giving a better understanding of size and appearance, great help for the buyer. For information, plant identification and viewings, contact Sandra on 0429 987 338 to book in for a visit.

Need some more inspiration?
Pick up a copy of our latest free discover magazine locally (look out for the stunning koala illustration on the cover by local Mel Casey)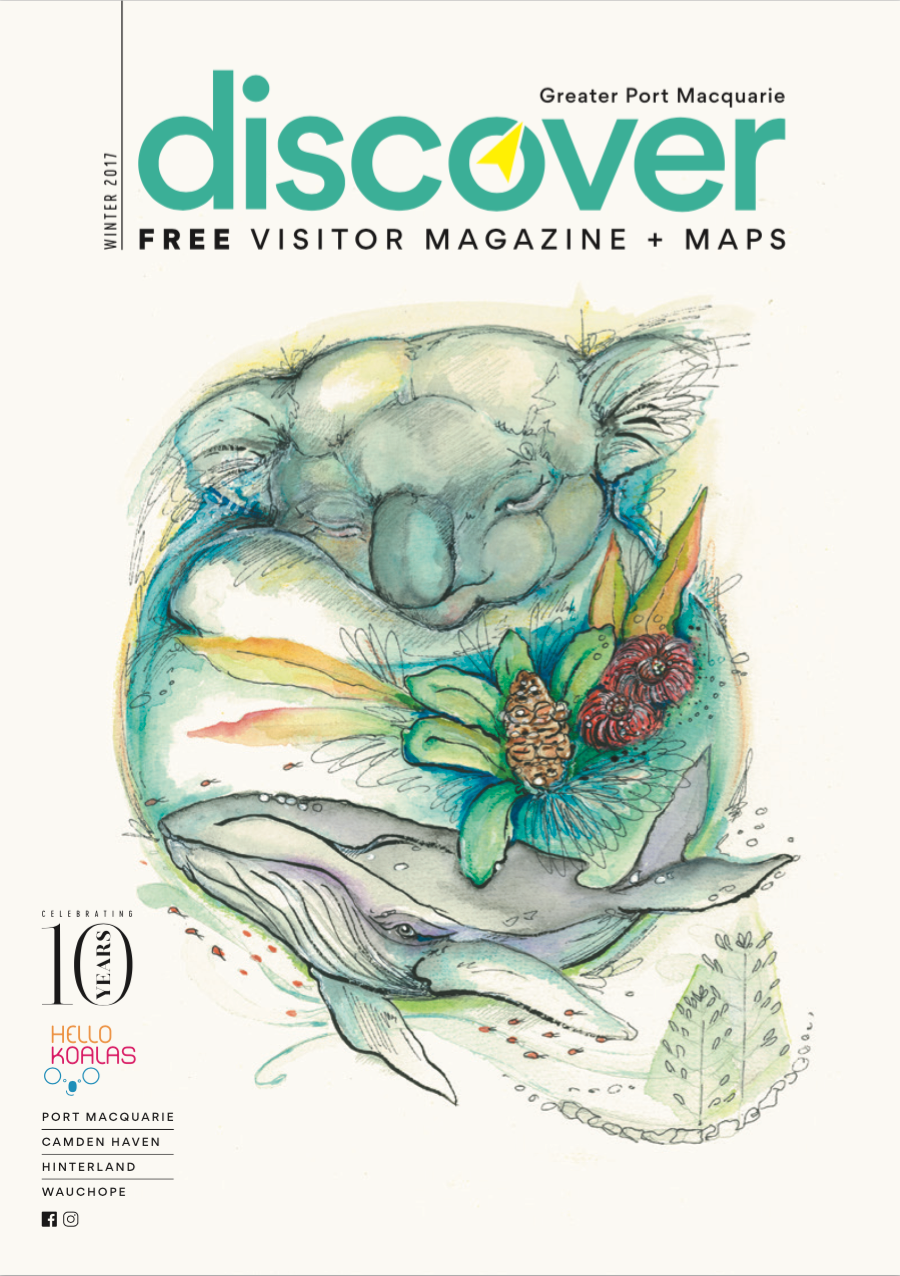 Or for more information about the Camden Haven or Greater Port Macquarie area, check out our other suggested pages:
Surfing
Markets
Author:
Discover Media Australia
About: Locally owned and operated by local husband and wife Andrew and Lucy Kowalewski, Discover Media Australia (DMA) is your go-to for tourism advertising and marketing.
Post comment