A sweeter future for our strawberries
Posted by Discover Media Australia on 11 October 2018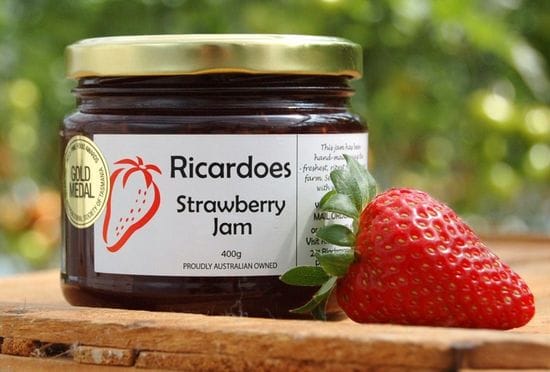 Ricardoes has enjoyed a bumper harvest of strawberries this spring. Instead of dumping them as happened to tonnes of fruit across Australia because of September's strawberry sabotage, the farm has engaged local manufacturer The Other Chef Fine Foods to expand its normal run of the farm's strawberry jam for home consumption into big 1 and 2 kilo "food service" packs for catering purposes.
In turn, another local enterprise, Doppio Or Nothing, distributor of coffee and other wholesale lines for cafes and restaurants, is sending the catering-size packs to its network of 120 clients around the country for commercial use in food outlets from cafes to retirement villages, hospitals and other bulk users.
- No dumping; no waste; supporting and growing local businesses and jobs.
Just when Australia's strawberry industry was suffering the major challenge of last month's tampering, one major NSW grower was launching a value-adding scheme for the fruit, forward planning seeing him avoid the disaster fellow producers faced, dumping tonnes of berries at a loss of millions of dollars and hundreds of jobs.
Anthony Sarks, owner of the mid-north coast's major strawberry producer, Ricardoes Tomatoes and Strawberries' farm at Port Macquarie, had anticipated the bumper spring crop brought on by warm late-winter weather that other growers around the country were also enjoying.
His "pick your own" strawberry operation wasn't affected by the store-bought berry scandal: consumers visit Ricardoes' farm and pick their own berries direct from plants grown in vertical rows on lattice walls. Nevertheless Sarks was horrified and saddened to see fellow growers forced to dump tonnes of fresh fruit as the predominantly supermarket-sold market for strawberries collapsed.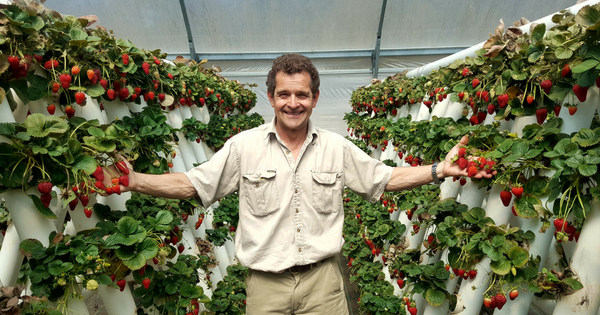 Coincidentally, the Port Macquarie producer had only weeks earlier mounted an initiative to preserve his own abundant spring harvest, maintaining income and the local jobs dependent on it, avoiding the heart-breaking waste suddenly facing other growers.

Now his three-pronged, three-man initiative to conserve the surplus crops has seen Ricardoes' strawberries spreading into new markets over the past month.
Sarks (below left) has joined forces with Eric Robinson (below centre), proprietor of commercial food manufacturer The Other Chef Fine Foods, and Stewart Clark (below right), a provedore and owner of Doppio or Nothing, who distributes coffee and related items to cafes and food preparation outlets across Australia.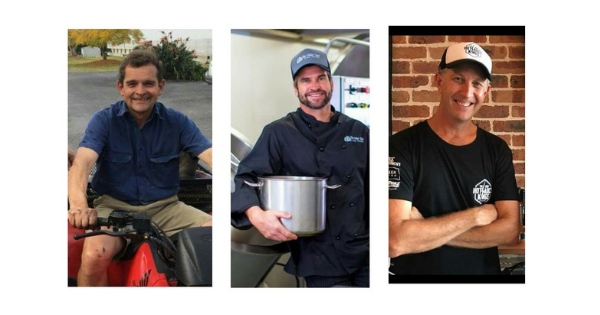 All three businesses are Port Macquarie-located and the three-man grower-manufacturer-distributor cooperative now sees Ricardoes' surplus strawberries turned into jam in Robinson's commercial kitchens and despatched to a growing number of Clark's 120 customers spread around the country.
Ricardoes was already a substantial client of the preserves manufacturer, who makes a range of dozens of sweet and savoury preserves from the farm's strawberries, tomatoes, citrus and other produce, sold in the farm's on-site shop, online and through local grocers.
Their strawberry jam, a gold medal award-winner and their biggest seller, has previously been available only in table-size jars.

This spring's abundant strawberry crop demanded bigger thinking and a bigger solution: bigger packaging and bigger markets. The Other Chef Fine Foods began processing berries into "food service" or catering pails of 1.35kg and 2.85kg for use by restaurants, cafes, retirement villages, hospitals and other bulk users.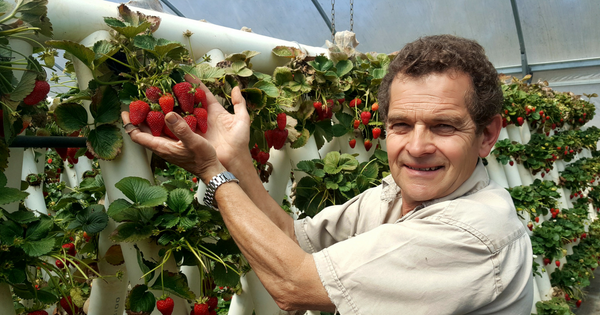 In turn Doppio Or Nothing sent trial catering packs of jam along with its regular deliveries to its clients. There's already been a good take-up of the new product along the NSW north coast and the three men are anticipating the demand will only continue to grow country-wide.
The crisis of confidence sparked by September's strawberry sabotage was swiftly overcome when angry consumers rallied and fought back to "defend" the popular fruit. Recipes for using cut and mashed berries flourished in the media ... a major hotel chain served up strawberry-topped pavlovas, strawberry shortcake, strawberry muffins and all kinds of other strawberry desserts ... Qantas and countless bars featured strawberry daiquiris ... politicians were pictured with punnets pleading for support for the half-a-billion-dollar industry, scoffing fresh strawberries themselves, serving them up to colleagues on fruit platters, and hoeing into strawberry trifle on TV.
Nutritionists say strawberries are good for the heart, boost good cholesterol, lower blood pressure and guard against cancer. They're packed with vitamins, fibre, and high levels of antioxidants as well as being an essentially fat-free, sodium-free, cholesterol-free low-calorie food. They're a good source of manganese and potassium and one serving - of about eight strawberries - provides more vitamin C than an orange.

Ricardoes Tomatoes & Strawberries
221 Blackmans Point Road, Blackmans Point Port Macquarie
Ph: 02 6585 0663
Photo credit: Anthony Sarks in strawberry avenues courtesy of Port News.
Author:
Discover Media Australia
About: Locally owned and operated by local husband and wife Andrew and Lucy Kowalewski, Discover Media Australia (DMA) is your go-to for tourism advertising and marketing.
Post comment