Wining and Dining with a View at The Westport Club
Posted by Simone Lye - The Aussie Flashpacker on 14 April 2019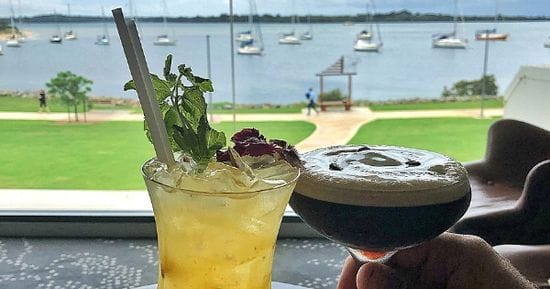 The Westport Club is a firm favourite with locals in Port Macquarie. It offers some of the best restaurants in the region, accompanied with top service and unbeatable views of the beautiful Hastings River. With breakfast and barista made coffee at Hastings Coffee Co., signature cocktails at Jimmy's Bar & Lounge and delicious cuisine at Aqua Restaurant, you'll feel like you are on holiday every time you visit The Westport Club.
JIMMY'S BAR & LOUNGE
Located on the first floor of The Westport Club, boasting some of the best water views in town is Jimmy's Bar & Lounge. The welcoming décor has warm tones, greenery, a crackling fireplace and floor to ceiling windows, along with comfortable lounges that will entice you to settle in for the afternoon or evening.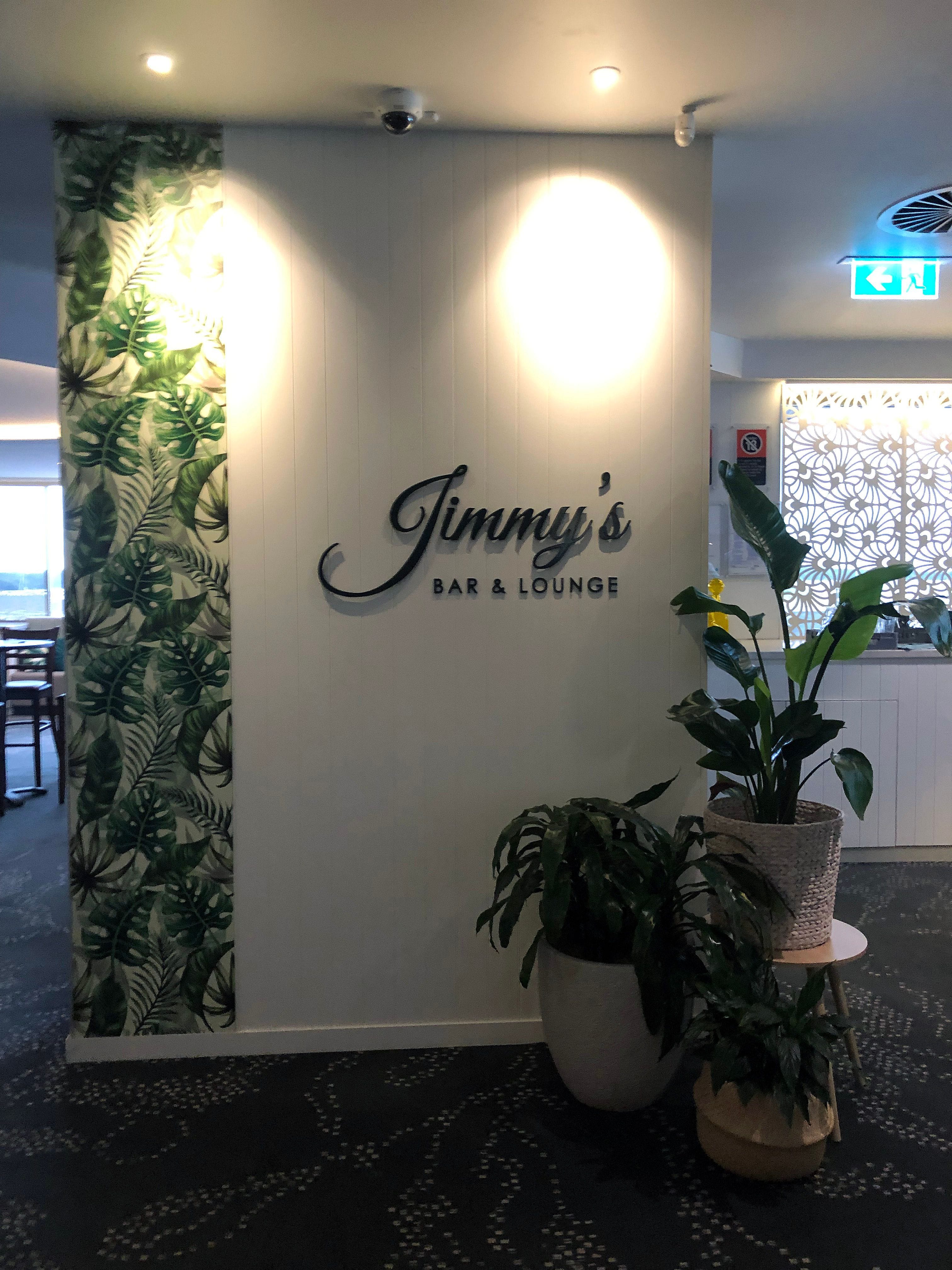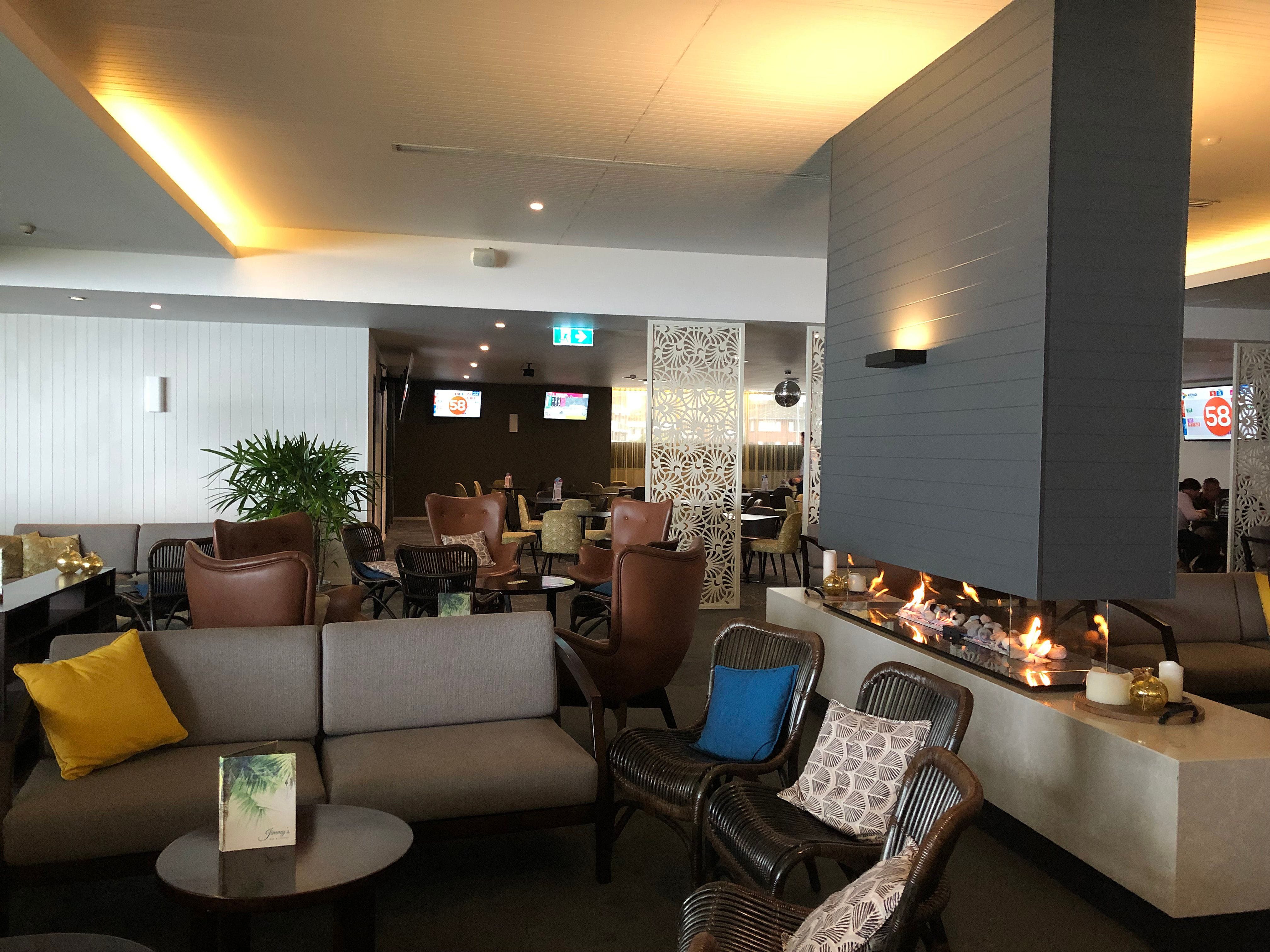 Jimmy's has a wonderfully relaxed atmosphere, and its water views stretch all the way to the mouth of the Hastings River, and out to Settlement Point.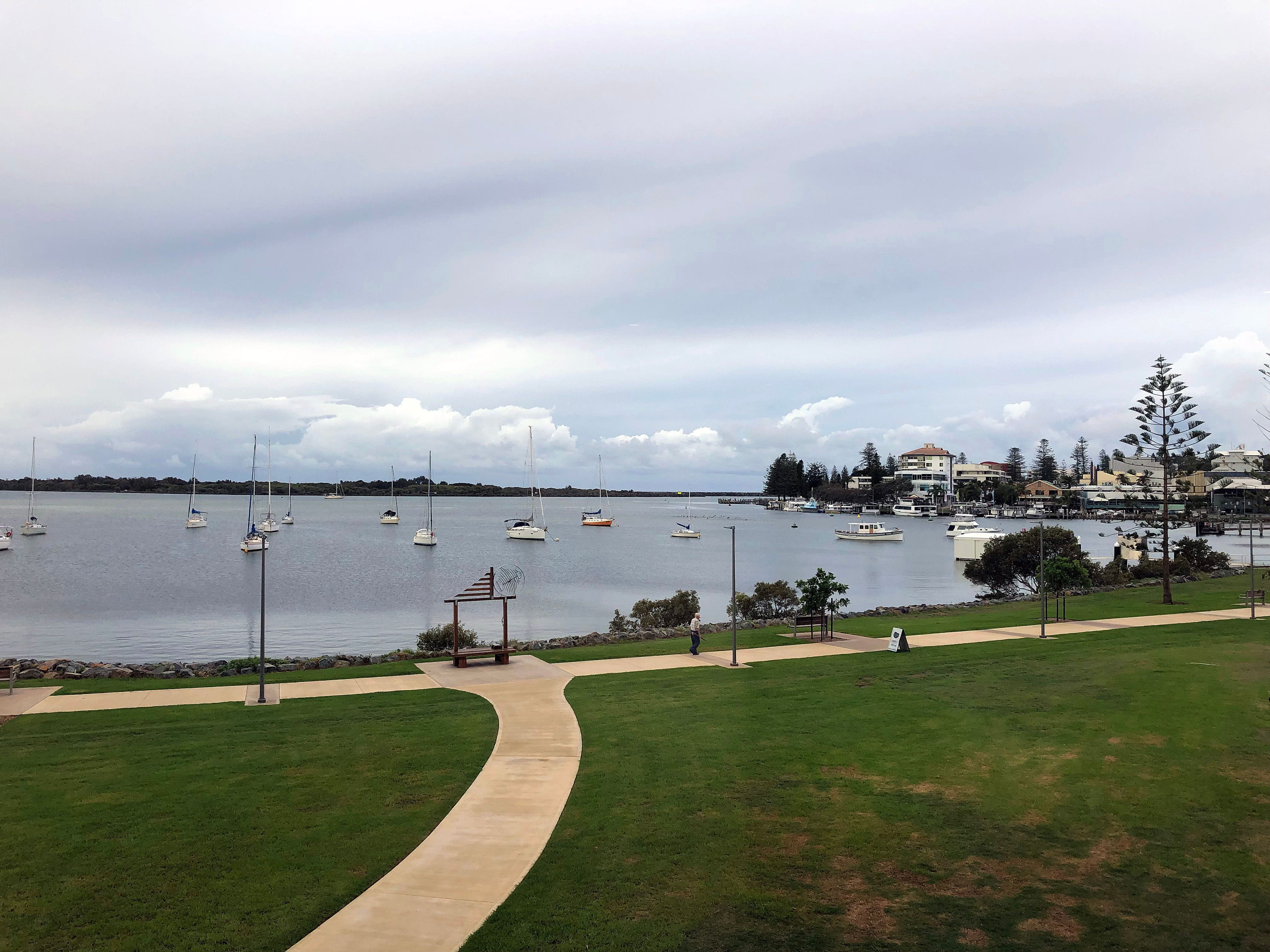 Whisky lovers will delight with over 100 whiskies on offer. The best way to experience their whiskies is through a whisky flight which is served with tasting notes and information about each spirit and the distillery where they come from.
In addition, there is a large range of Australian and International wines and beers which are best enjoyed with a cheese platter! Our favourite part of Jimmy's is the incredible cocktail list! There are all the traditional favourites as well as Signature Cocktails and Jimmy's exclusive Luxury List! We soaked in the stunning views while sipping on a Passion Flower and Salted Caramel Espresso Martini.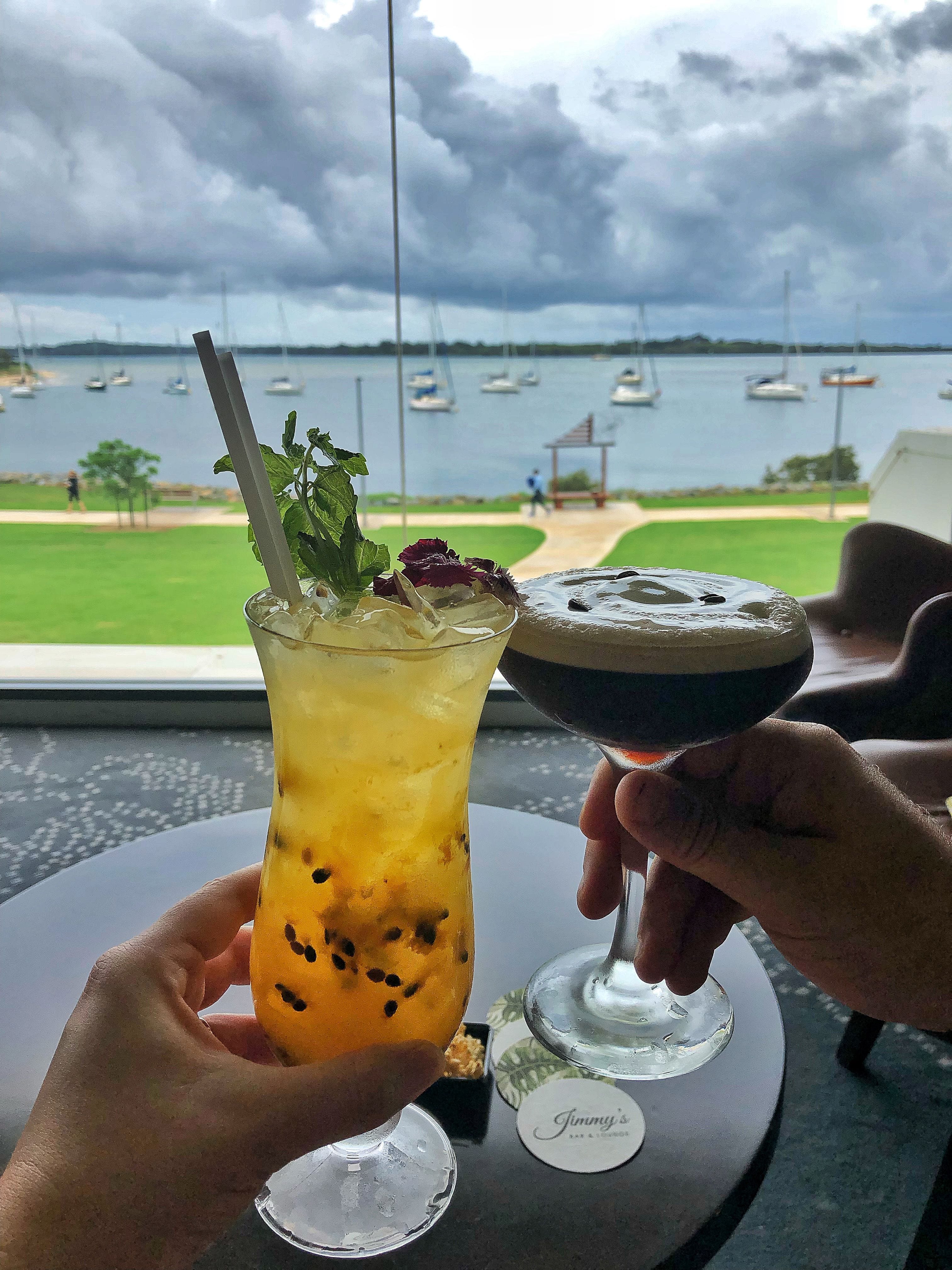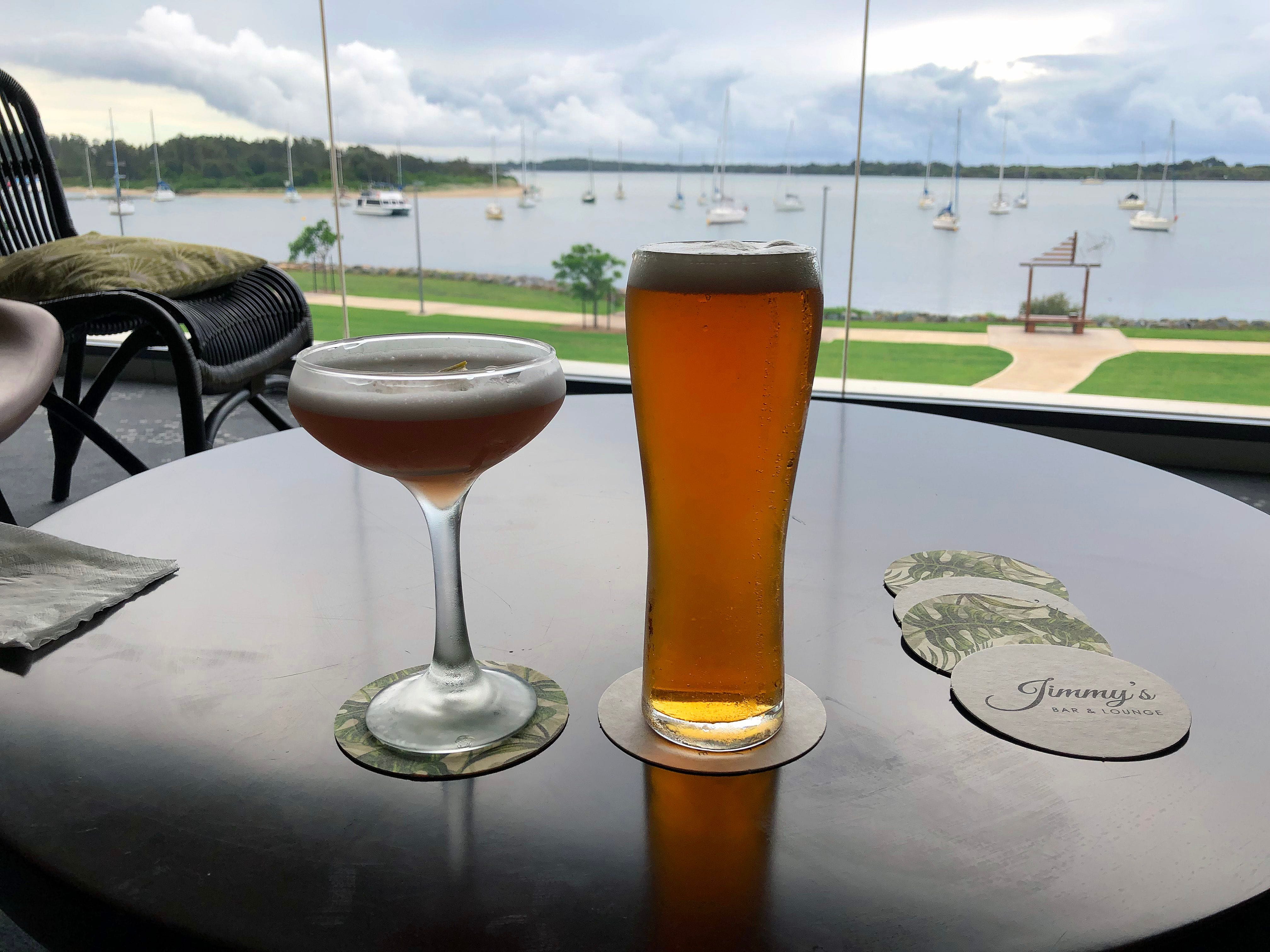 The vibe at Jimmy's is luxurious yet comfortable and welcoming, as they describe it perfectly 'you'll feel like you're on an endless holiday' when you visit Jimmy's! You're protected from the elements, yet you have the perfect views of Port Macquarie making it the perfect venue no matter what the weather!
AQUA RESTAURANT
Aqua is the restaurant at The Westport Club and is of the most popular dining venues in Port Macquarie. Aqua has beautiful blues, whites and coastal Hampton-style decor. The restaurant is stylish, yet relaxed and is the perfect venue for all occasions ranging from a casual meal all the way to celebrating the most special of events.
Aqua also boasts stunning views of the Hastings River, where you can watch the sailing boats go by, keep an eye out for dolphins and watch the beautiful colours of the sky change as the sun sets. We had a beautiful window table overlooking the Hastings River which was the perfect place to relax and enjoy a wonderful evening.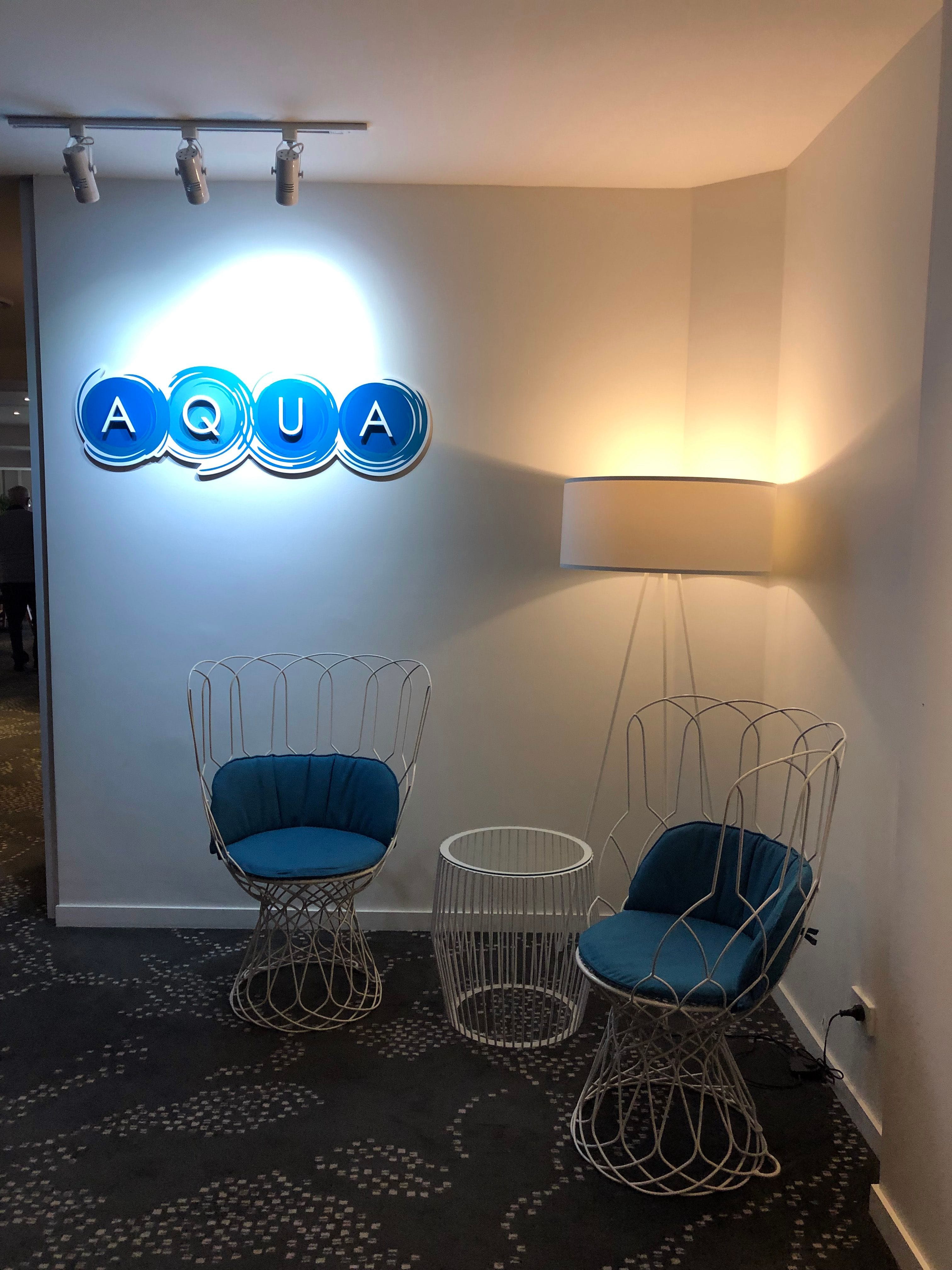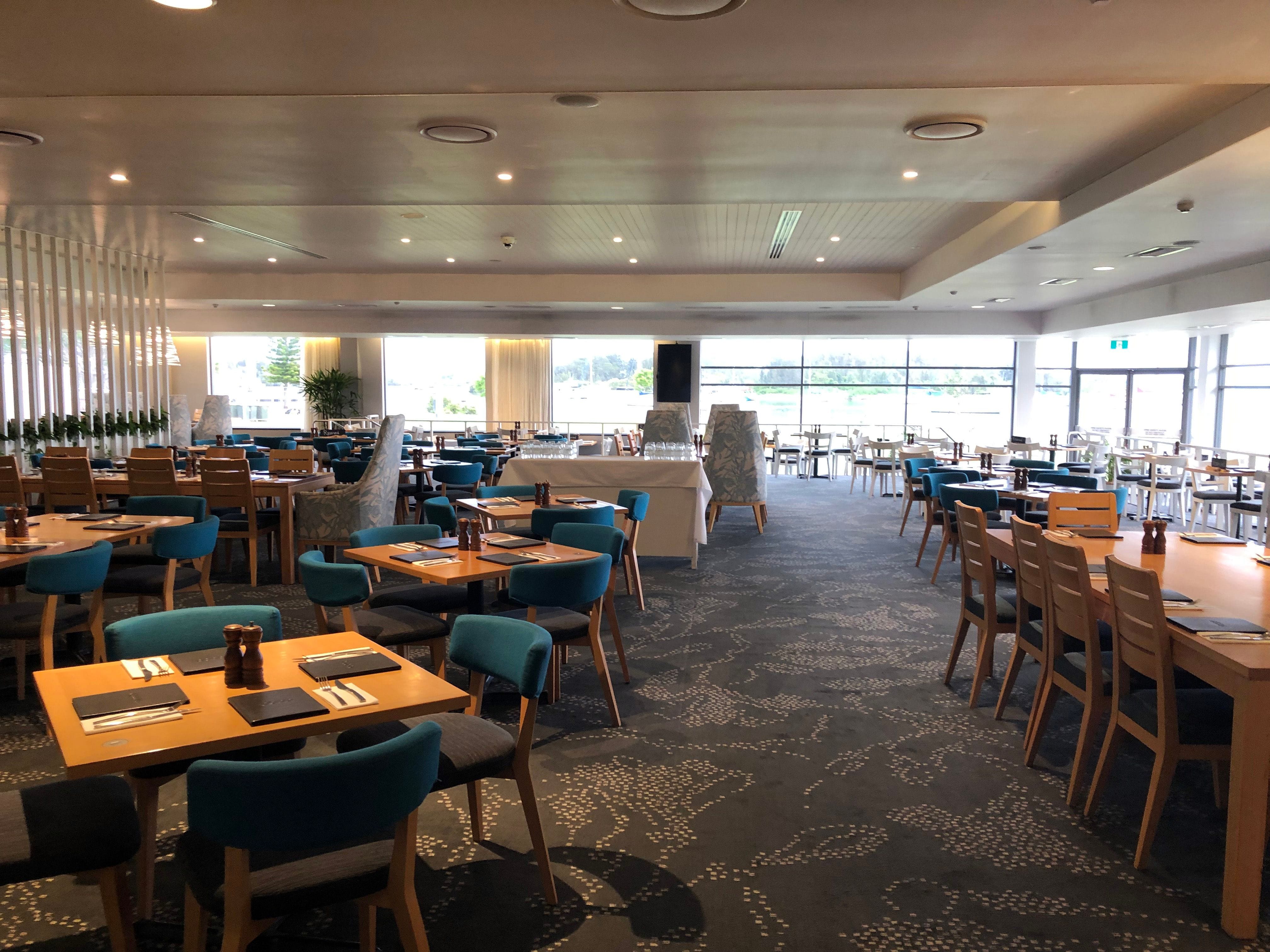 The menu focuses on the use of fresh, local produce and we loved how extensive and well thought out it was, ensuring that there is the perfect meal for everyone! There are classic, much-loved dishes such as chicken schnitzel, roast dinners, fish and chips all the way through to seafood platters to share, Sri Lankan curry and scotch fillet steak, just to name a few. In addition, there are petit meals and kids meals, as well as mid-week lunch specials for members!
We began our lovely evening at Aqua with a starter of salt & pepper squid and garlic bread. The toughest decision of the night was the main course, as there were so many incredible options on the menu! We opted for the Scotch fillet with salad and chips, and the Mediterranean chicken with a lemon and herb marinade, chat potatoes, cherry tomatoes, olives, roasted peppers, feta and tzatziki. Every aspect of our dishes were cooked to perfection, and presented beautifully. Finally, we ended our night of incredible food, service and views with sticky date pudding with butterscotch sauce and ice cream, and lemon meringue pie with candied citrus and ice cream. We may have rolled out of the restaurant but had no regrets as every bite of every dish was so delicious.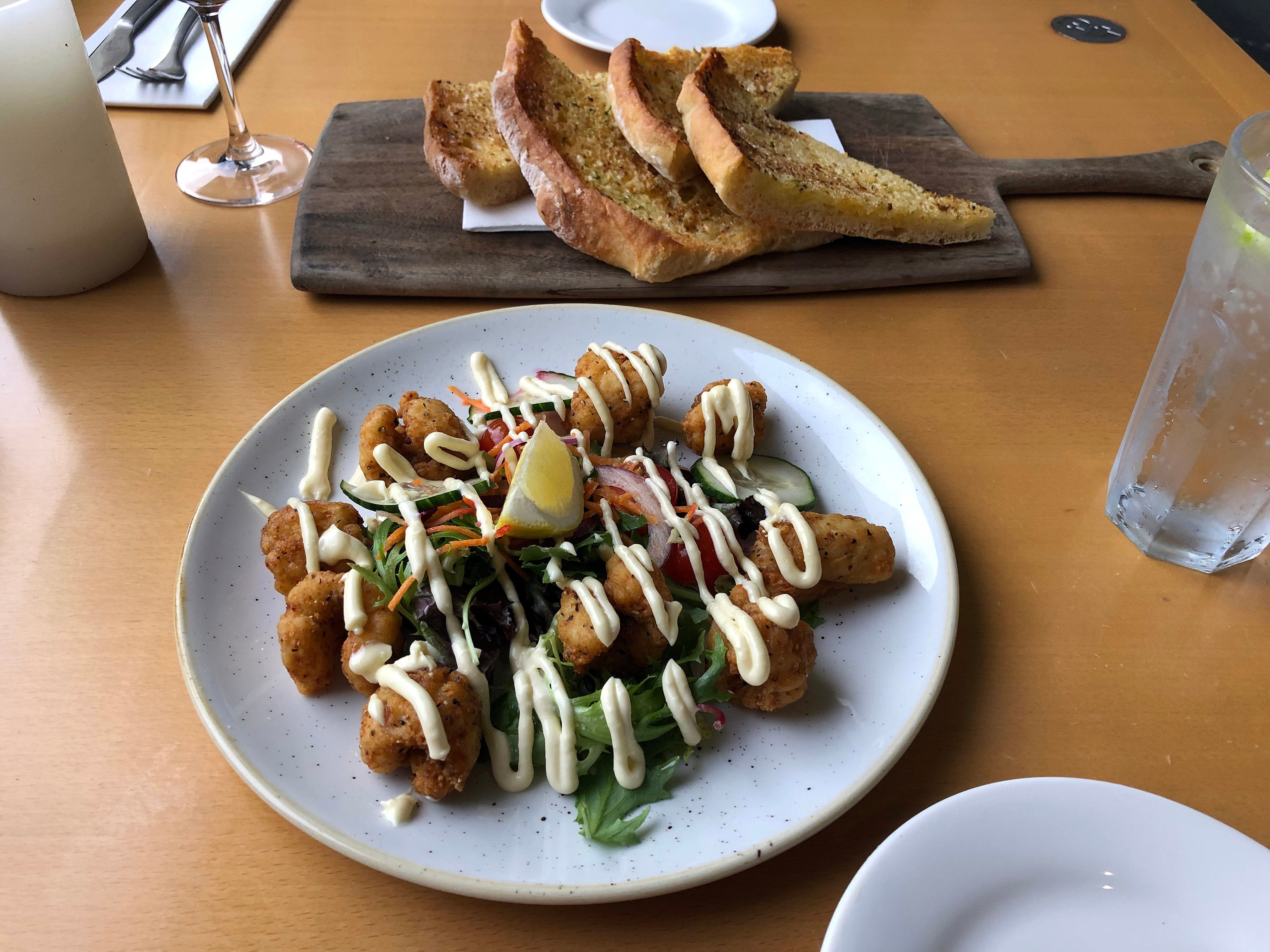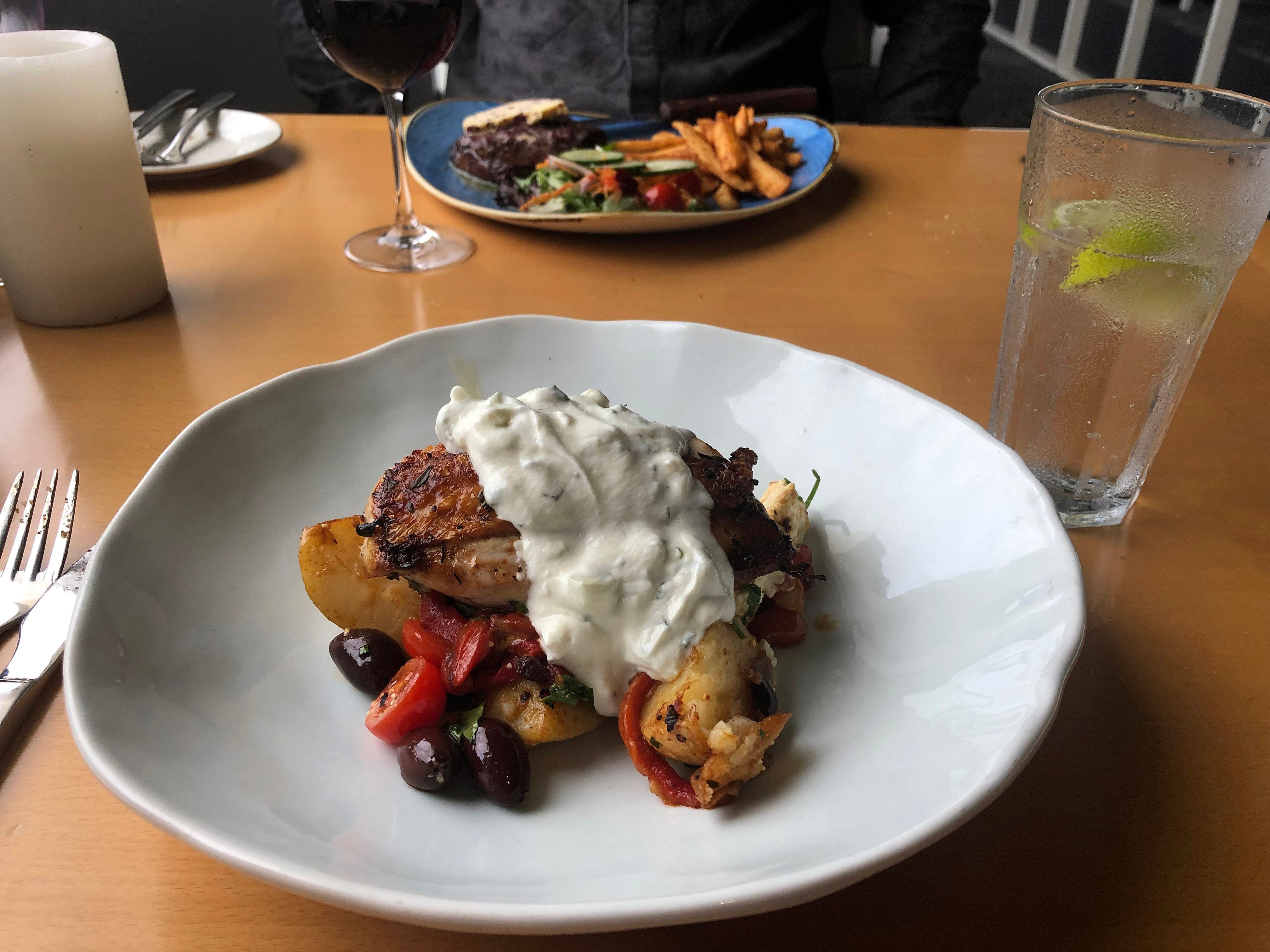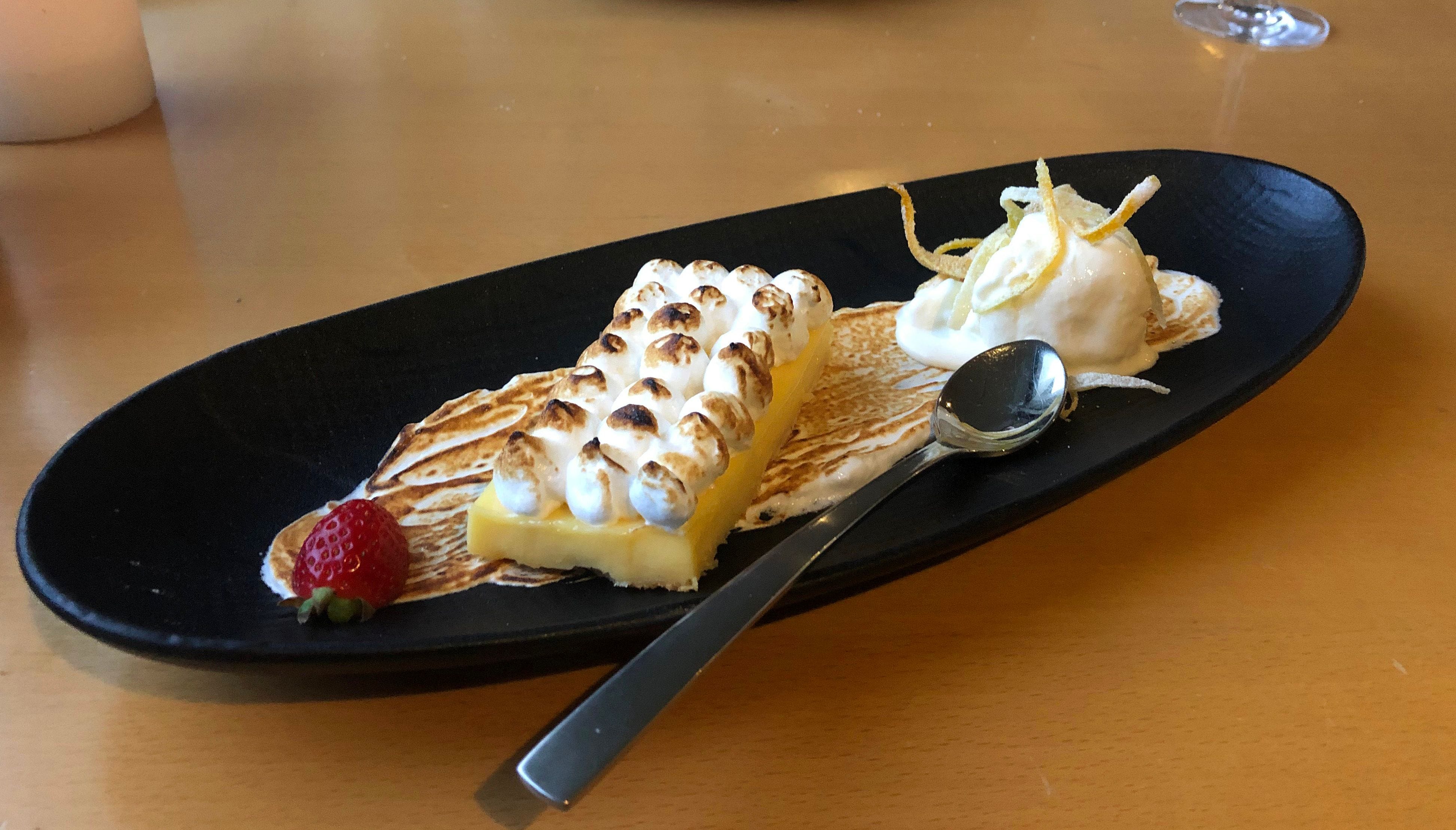 Aqua is popular every night of the week, so we definitely recommend booking in advance which you can do online or by phoning the restaurant on 6588 7201.
HASTINGS COFFEE CO.
Like Aqua and Jimmy's, the Hastings Coffee Co. offers stunning views of the Hastings River. There's plenty of indoor seating with bright, fresh coastal décor.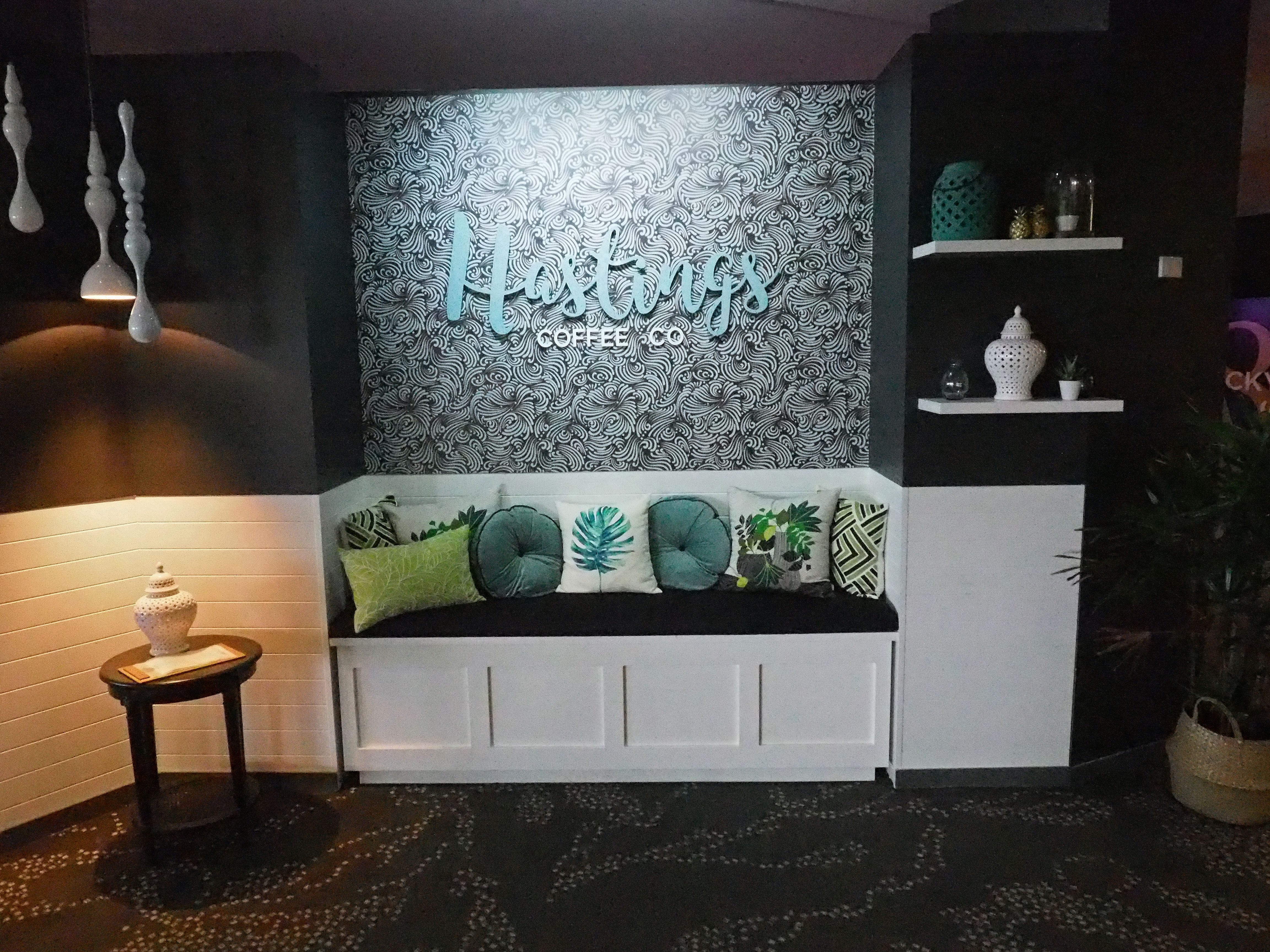 Hastings Coffee Co. has all-day breakfast, a light lunch menu, afternoon tea and dinner on Wednesdays to Saturdays! The Bakery has a tantalising selection of treats and sweets and their signature sourdough which you can purchase and take home with you!
We called into Hastings Coffee Co. for breakfast and were treated to a feast of Hastings Breakfast and Eggs Benedict topped off with fresh juice and coffee. Breakfast was fresh, hot and delicious and the baristas make one of the best cups of coffee in town.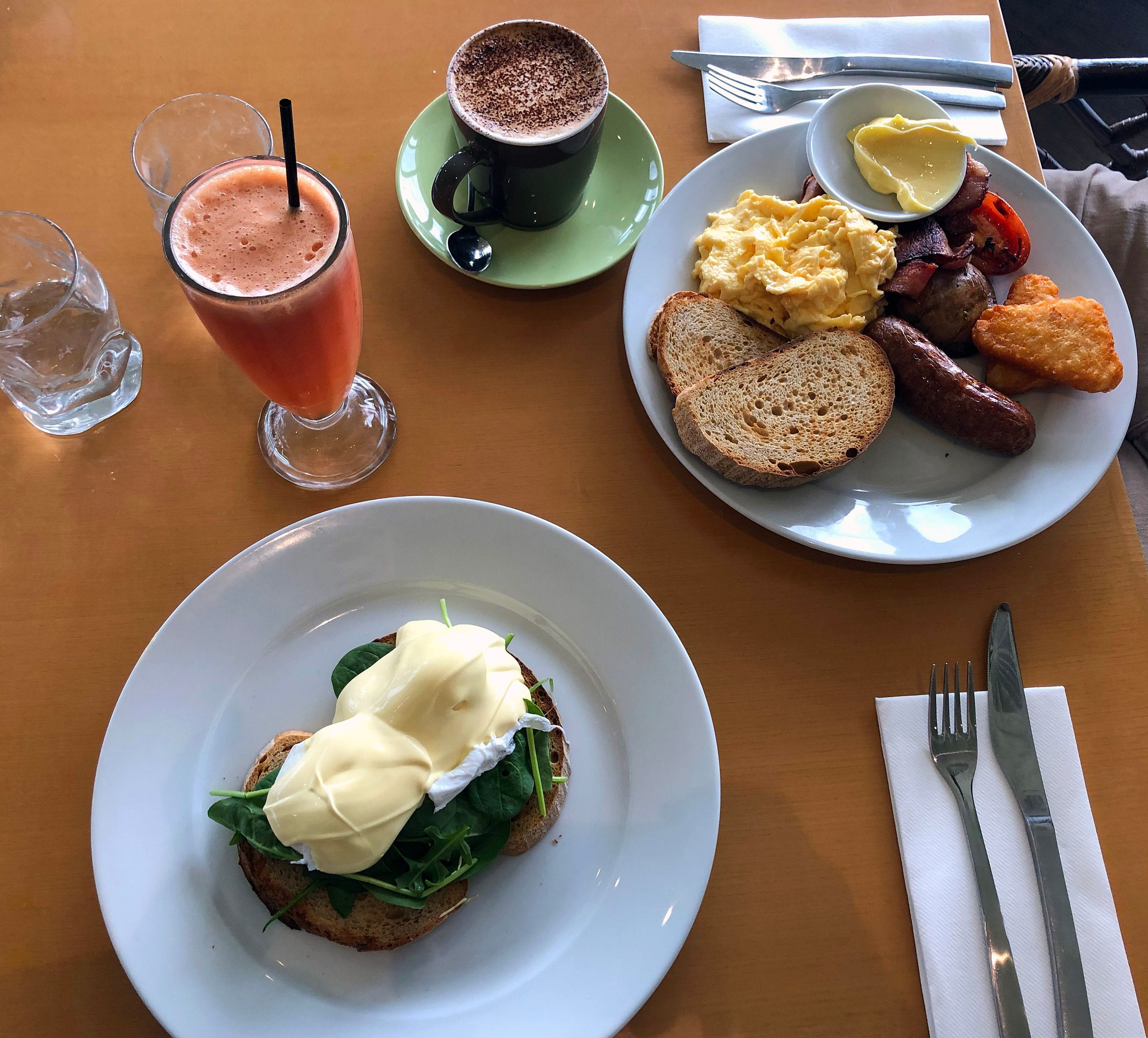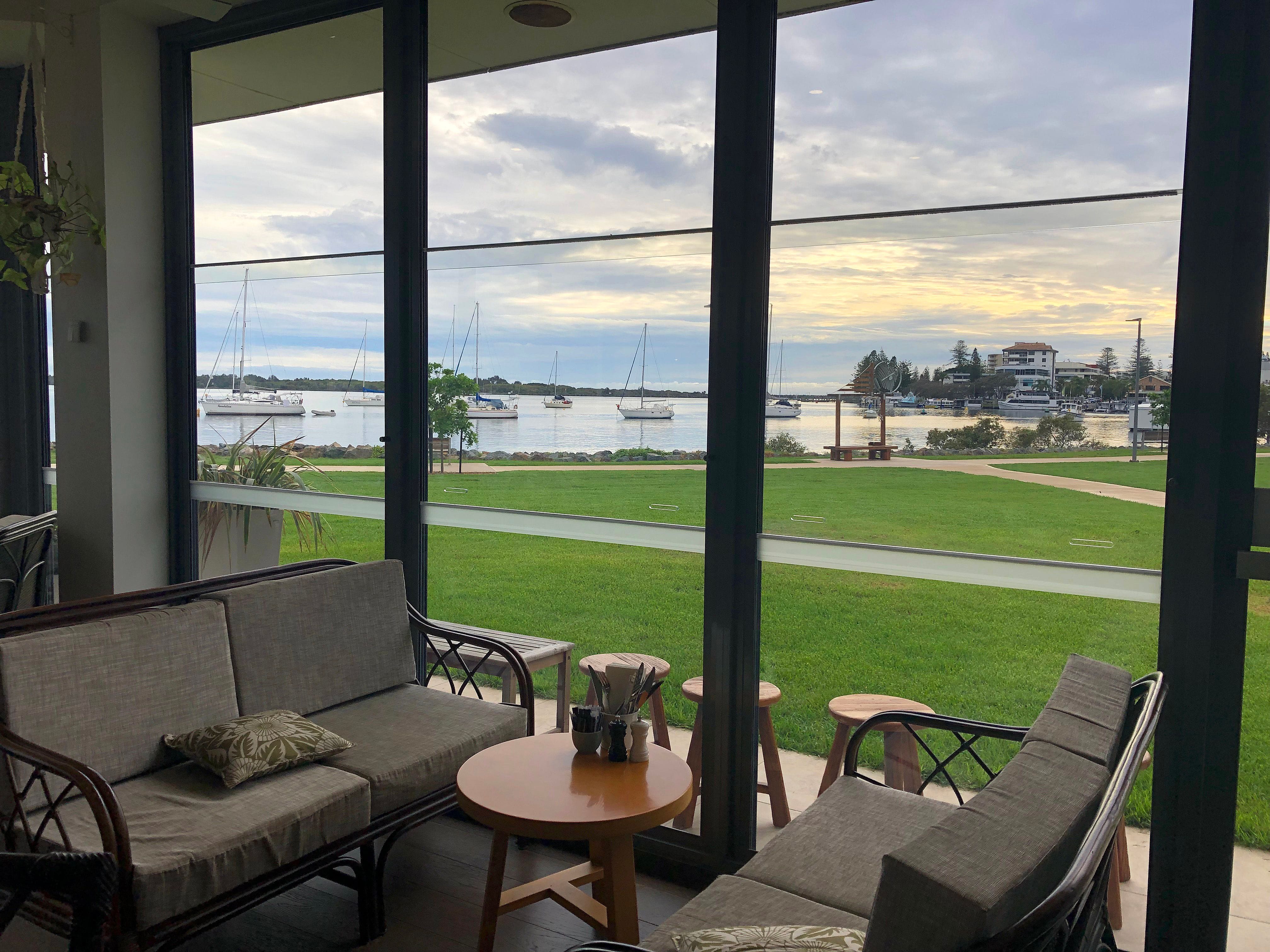 We love that Hastings Coffee Co. has a window booth and outdoor seats where you can buy coffees, smoothies and snacks while you're out and about enjoying the sunshine and don't fancy coming inside. We often stop by when walking our dog to grab a takeaway coffee.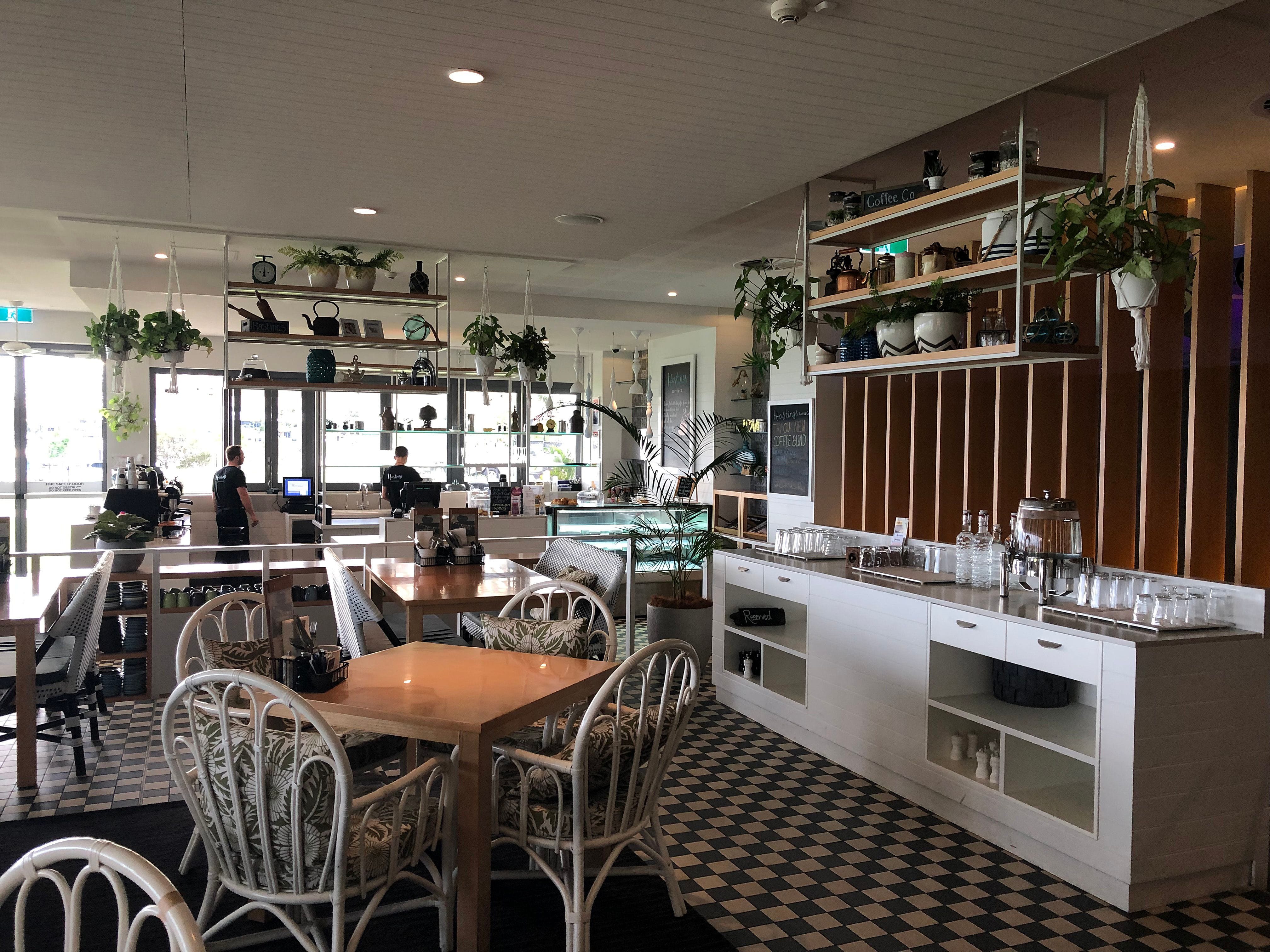 FINAL THOUGHTS
The Westport Club is loved by locals and visitors alike and it's not difficult to see why! With modern, stylish facilities and an unbeatable view (one of the best in town), it is the perfect place to relax, wine and dine. The staff take pride in their work and it is evident they love working there because it shines through in the warm, friendly service you receive from the moment you step in the club, right through until you leave. Whether you are visiting with family, friends, solo or for a special occasion, you can be guaranteed The Westport Club will look after you and every visit will feel like you're on holiday!
The Westport Club
25 Buller Street
Port Macquarie NSW 2444
6588 7201
www.thewestportclub.com.au/
Author:
Simone Lye - The Aussie Flashpacker
Post comment